Category Archives:
Current Affairs
The Markets Endorse Rwanda's Path To Economic Growth
By Andrea Redmond & Patricia Crisafulli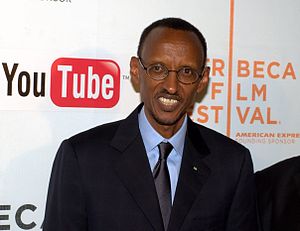 President Paul Kagame of Rwanda at the 2010 Tribeca Film Festival.
(Photo credit: Wikipedia)[/caption]
Amid the rhetoric, pro and con, around Rwanda, the impartial voice of the marketplace has spoken, with a ringing endorsement of its economic turnaround and prospects for continued growth.
Last week, Rwanda's debut on the global bond market raised $400 million with an offering that was heavily over-subscribed by nearly eight times. Final yield on the 10-year bonds of 6.875% was less than reported expectations in the low-7% area, due to strong buyer interest. Proceeds will go to repayment of bank loans, infrastructure such as a hydropower project, expansion of the national airline RwandAir, and the completion of a convention center in the capital of Kigali.
The successful bond issue triggered a flurry of enthusiastic postings on Twitter from Rwandan government officials (very savvy users of social media). Finance Minister Claver Gatete hailed a "great day for Rwanda after the investors have shown confidence in our economy…." President Paul Kagame tweeted his congratulations to those who worked to bring the bond offering to a successful conclusion, adding "Let's continue forward."