News from 2012
October, 2012
Tap Water vs Bottled Water
As seen on OverlookPress.com:
Learn more about Drinking Water by James Salzman here.
Rwanda, Inc. Endorsed By Former President Bill Clinton!
As seen on Amazon.com:
Rwanda, Inc.: How a Devastated Nation Became an Economic Model for the Developing World
by Patricia Crisafulli and Andrea Redmond
"In Rwanda, Inc., Crisafulli and Redmond recount the rise of an unyielding people and their chief executive, President Paul Kagame.  The Rwandans, rallying around their national pride, have built predictable systems that reward enterprise and hard work, and created an exceptional blueprint for other developing countries."—President Bill Clinton
"Andrea Redmond and Patricia Crisafulli are known for their ability to connect with people, examine leadership skills and teach us through their compelling observations and insights.  As advocates for the future of Rwanda, they are now telling a story that we can all benefit from hearing."–Jamie Dimon, Chairman and CEO, JPMorgan Chase
Welcome to DSM Agency
Welcome to the new and improved DSM Agency website! After almost 18 years in business, we are very proud to share our "High Quality Books that Make Difference" with you. We will be highlighting various books on our home page, but you can also find more details about our various books in the fiction andnonfiction sections. I'm off to the international Frankfurt Book Fair with our 2012 DSM Agency rights list in hand to meet with our sub-agents and international publishing contacts from around the world. Please come visit our site any time for the latest updates during these dynamic times in the publishing arena. We will keep you informed about current deals and news associated with our clients.
Happy reading,
Doris
---
September, 2012
As seen on Investors.com:
By MICHAEL MINK, FOR INVESTOR'S BUSINESS DAILY
Just like top runners, great CEOs lap average performers. Jeffrey Fox, who co-wrote "The Transformative CEO" with Robert Reiss, points to Peter Cuneo, who took over Marvel Entertainment in 1999, led its stock on a rocket run and guided the firm toward its $4 billion pickup by Walt Disney (DIS) in 2009.
Lessons and tips from game-changing CEOs:
• Be fast and accurate. When Rick Goings took over as Tupperware Brands (TUP) president in 1992, he found a company hemorrhaging cash. He asked for a quick analysis so he could stop the bleeding.
"The whole of what we try to indoctrinate in our culture, from the Marine Corps, is the 70% solution," Goings told IBD. "Once you have about 70% of the information, trust your instincts. Your instincts are based on your experience."
Goings took over as Tupperware's CEO in 1997 and still emphasizes that need for speed, with signs at Orlando, Fla., headquarters that say "Fast and Right."
The plastic-container firm has responded with double-digit profit growth in 10 of the past 13 quarters.
• Acquire talent. Goings avoids following companies that swerve from what's most important. "Too much focus has been on strategy, on techniques, financing, etc. It has not been on how to create people," he said. "All a company is is a collection of people. Recruit the best ones, empower them, develop them, and that's where you'll get results in a company."
• Go at it. Goings zeros in on right now. "Time is a scarce resource," he said. "Identify and do the things that matter most, and let the other things go."
• Be true. To Tupperware's 2.7 million independent direct sellers, "we emphasize and teach authenticity," Goings said, adding that authentic people have the trust to inspire sales teams and build retention.
• Innovate. It's a crucial trait for transformative CEOs. One, says Fox, is Dan Amos, CEO of Aflac (AFL), who made the call that put his company on the national map: using the quirky duck in its TV ads. The campaign resulted in Aflac's brand awareness rising from 11% to 93%.
• Make difficult calls. Leadership for transformative CEOs is not a popularity contest, Fox said: "Turning around a dysfunctional culture, rescuing a dying company, is not for the needy personality. Tough decisions will never be wildly popular."
• Create a top culture. "The transformative CEO is obsessed with maintaining and protecting a winning one," said Fox. "They hire to their culture and get rid of even superstars if they are malignant to it."
---
August, 2012
As seen on Publishers Weekly:
Rwanda, Inc.: How a Devastated Nation Became an Economic Model for the Developing World
Patricia Crisafulli and Andrea Redmond. Palgrave Macmillan, $27 (256p) ISBN 978-0-230-34022-0
In their latest, Crisafulli and Redmond (coauthors of Comebacks: Powerful Lessons from Leaders Who Endured Setbacks and Recaptured Success on Their Terms) investigate the Rwandan renaissance, focusing on "Rwanda's CEO," Paul Kagame, a former refugee turned politician. Now in his second term as president, Kagame looks toward the future in light of the "lofty" objectives he set for his administration and nation. His hope to make Rwanda a self-sufficient economy is encompassed in his Vision 2020, a series of goals that range from decreasing the number of citizens who live in poverty to developing the Rwandan stock market. During Kagame's tenure, he has placed a heightened importance on education–making 12 years of schooling compulsory– while stimulating agriculture. His initiatives favoring universal health care, unification and reconciliation, and grassroots change have improved the quality of life and encouraged investment by outsiders. Although the authors seem too quick to dismiss criticism by Human Rights Watch and others, this is a fascinating portrait of a nation and a president at a pivotal moment in history. Agent: Delia Berrigan Fakis, DSM Literary Agency. (Nov.)
Reviewed on: 08/27/2012
---
July, 2012
SOMM Documentary Trailer: How much do you know about wine?
Eddie Osterland's POWER ENTERTAINING: Secrets to Building Lasting Relationships, Hosting Unforgettable Events, and Closing Big Deals from America's 1st Master Sommelier will be published in September 2012.
Harry Kraemer's FROM VALUES TO ACTION hits #4 on the Business Book Bestseller List for June 2012.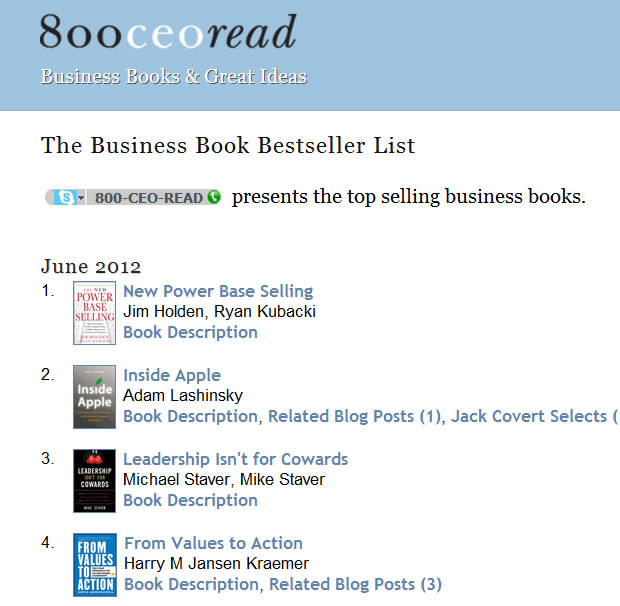 "Jeffrey Fox, co-author of The Transformative CEO, says JPMorgan Chase chief Jamie Dimon remains a top-ranked CEO despite the recent hit to his reputation."
The video can be found here.
"The greatest CEOs are transformative and I define transformative as a CEO who creates new value that reinvigorates the company, reinvents an industry or reboots society."
-Robert Reiss, author of THE TRANSFORMATIVE CEO.
The video can be found here.
---
June, 2012
"If we are to create a global economy that works for the nine billion people forecast by midcentury, then for the sake of the global climate and for the survival of many other species we have no option but to turn today's capitalism inside out and upside down." -John Elkington, author of THE ZERONAUTS.
The full article can be found here.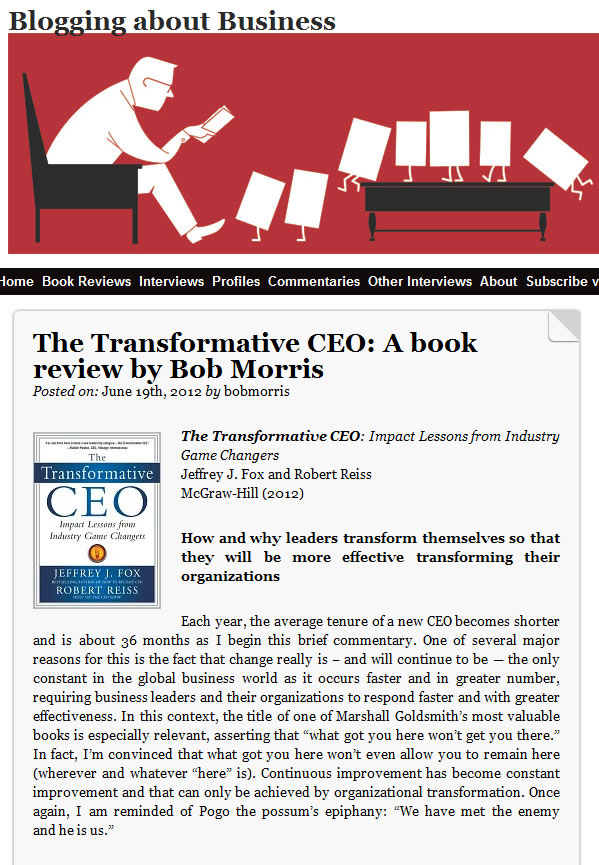 The full book review by Bob Morris for TRANSFORMATIVE CEO by Jeffrey Fox and Robert Reiss can be found here.
Review for IGNITING THE FLAME by Jim Reisler
Reisler, Jim. Igniting the Flame: America's First Olympic Team. Lyons: Globe
Pequot. Jun. 2012.
Today's Olympics are a humongous international event costing billions of
dollars to produce so they can be watched worldwide by billions of people.
As described here by sportswriter Reisler (Babe Ruth Slept Here), the first
"modern" Olympics, held in 1896 Athens, were drastically smaller and
drastically different. For example, described as a "glorified pickup squad,"
the full U.S. Olympic team consisted of 14 athletes from only three
organizations (Princeton, Harvard, and the Boston Athletic Club). Also,
before the games got under way, the American public was barely aware that
the event was to be held. Once the U.S. athletes and their scholarly
entourage arrived in Greece, articles were sent back to American newspapers
describing the U.S. team's success. The athletes won nine of the 12 track
and field events held. One of the best stories here is about American Robert
Garrett, who won the gold medal in the discus despite taking up the event
for the first time on the very day of the competition.
Verdict This fun and accessible read is recommended to all coming Olympics
watchers interested in putting today's games in historical perspective. The
photographs, appendix of award winners, and notes will add to the reader's
experience.—Todd Spires, Bradley Univ. Lib., Peoria, IL
---
May, 2012
As seen on Nautilusbookawards.com
2012 Nautilus Awards Silver Winner: FROM VALUES TO ACTION by Harry Kraemer

---
April, 2012
Selena Rezvani's PUSHBACK hits No. 20 on the Amazon Best Sellers List in the category of Women & Business.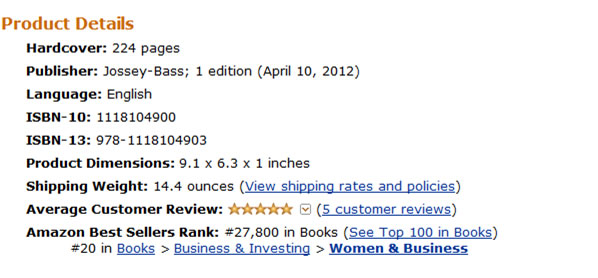 PUSHBACK has been in the LA Times, Forbes.com, PayScale.com, US News & World Report, BusinessNewsDaily, MSNBC, MORE magazine, LinkedIn Blog, among others. You can read more about Selena Rezvani's book on her blog here.
---
March, 2012
Harry Kraemer's FROM VALUES TO ACTION hits No. 13 on the Business Book Bestseller List for February 2012.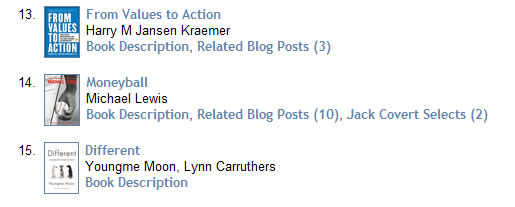 As seen on Publisher's Marketplace:
Rights to Sarah McCoy's THE BAKER'S DAUGHTER, to Nord in Italy, at auction, by Maura Solinas at Piergiorgio Nicolazzini Literary Agency, and to Pegasus in Turkey, by Hatice Gok at ONK Agency on behalf of Doris S. Michaels at Doris S. Michaels Literary Agency.
Nord's book trailer in the Italian language for THE BAKER'S DAUGHTER:
The English translation of the book trailer here.
---
February, 2012
DSM Agency authors Patricia Crisafulli and Andrea Redmond have written an article on a well-regarded Wall Street program that was recently brought to Rwanda. You can read the entire article here.
RWANDA, INC. by Crisafulli and Redmond will be published in the fall by Palgrave-Macmillian.
As seen on Las Vegas Review-Journal:
February 19, 2012
John P. Strelecky, DSM Agency author of THE WHY CAFE, explains that employers look for "someone who approaches them with an idea of a new position, as long as it makes sense."
Read the full article here.
---
January, 2012
Harry Kraemer's FROM VALUES TO ACTION hits No. 6 on the Inc. Magazine Business Book Bestseller List for Decemeber 2011.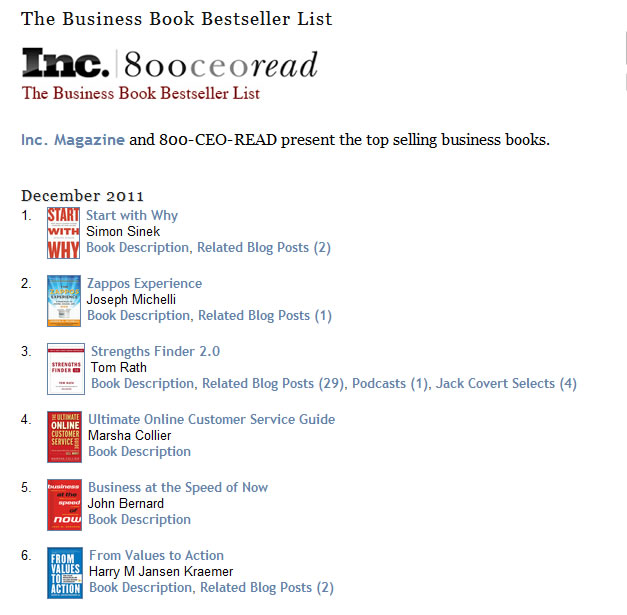 As seen on Publishers Marketplace:
January 5, 2012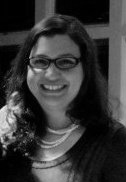 Delia Berrigan Fakis has joined Hallmark Cards as a retail editorial strategist. She was previously a literary agent with DSM Agency, where she had been for six and a half years.
DSM Agency wishes her great success in the New Year!
January 12, 2012
Selena Rezvani, author of the upcoming book Pushback: How Smart Women Ask — and Stand Up — for What They Want, gives advice on how to negotiate for a lower price on anything.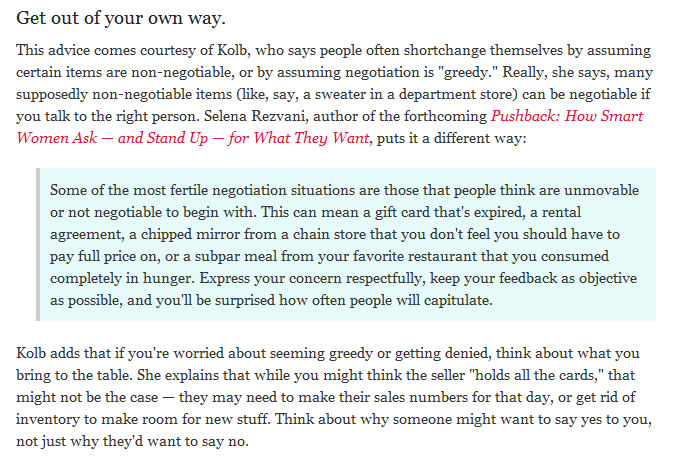 You can read the complete article here.