Nonfiction
Maury Allen
All Roads Lead to October
Memories of the Mick

Ryan Babineaux and John Krumboltz
Fail Fast, Fail Often
Sandra Bark and Alexis Kanfer
Cheap and Easy
Barbara Bartlein
Why did I marry you anyway?
Hamilton Beazley
Continuity Management
No Regrets
Sheila Murray Bethel
A New Breed of Leader
Dianna Booher
The Voice of Authority
Verbal Tea
E-Writing
From Contact to Contract
Stephen Bruyant-Langer
The Personal Business Plan
Lenor Madruga Chappell
One Step at a Time
The Next Leg of My Journey
John Corcoran
The Teacher Who Couldn't Read
Bridge to Literacy
Patricia Crisafulli
The House of Dimon
Inspired Everyday
Patricia Crisafulli and Andrea Redmond
Comebacks
Rwanda, Inc.
Deborah Davis
You Look Too Young to be a Mom
Hans Deuel
Investing in Internet Stocks
Patricia Duffy
Blue Cats and Chartreuse Kittens
Maddy Dychtwald
Cycles
Influence
Joseph H. Ellis
Ahead of the Curve
John Elkington
Zeronauts
John Elkington and Pamela Hartigan
The Power of Unreasonable People
John Elkington and Jochen Zeitz
The Breakthrough Challenge
Matt Eversmann
Battle of Mogadishu
Liza Featherstone
Selling Women Short
William Ferguson
The Wisdom of Titans
Jeffrey Fox
How to Become CEO
How to Become a Rainmaker
How to Land Your Dream Job
How to Become a Great Boss
How to Become a Marketing Superstar
How to Make Big Money in Your Own Small Business
Secrets of Great Rainmakers
How to Get to the Top
Rain
How to Be a Fierce Competitor

Jeffrey Fox and Richard Gregory
The Dollarization Discipline
Jeffrey Fox and Robert Reiss
The Transformative CEO
Shayne Gilbert
90 Days to Launch
J. Barry Griswell and Bob Jennings
The Adversity Paradox
Nance Guilmartin
Healing Conversations
The Power of Pause
Sue Hitzmann
The Melt Method
Dutch Holland
Change is the Rule
Red Zone Management
Todd Hopkins and Ray Hilbert
Carrot Chaser
Jason Kelly
The Neatest Little Guide to Mutual Fund Investing
The Neatest Little Guide to Stock Market Investing
The Neatest Little Guide to Personal Finance
The Neatest Little Guide to Making Money Online
The Neatest Little Guide to Do-It-Yourself Investing
The Neatest Little Guide to Stock Market Investing, 3rd Edition
The Neatest Little Guide to Stock Market Investing, 4th Edition
The Neatest Little Guide to Stock Market Investing, 5th Edition
The 3% Signal
Warner Burke and William Trahant with Richard Koonce
Business Climate Shifts
Dick Smith and Jerry Blakeslee with Richard Koonce
Strategic Six Sigma
Jaclyn Kostner
Bionic E-Teamwork
Harry Kraemer
From Values to Action
Nancy Liebler and Sandra F. Moss
Healing Depression the Mind-Body Way
Stuart Lucas
Wealth
Wealth, 2nd edition
Gary MacDougal
Make a Difference
Vickie Nam
Yell-Oh Girls!
Eddie Osterland
Power Entertaining
Charlie Pellerin
How Nasa Builds Teams
Lynn Peril
Pink Think
College Girls
Jim Reisler
Igniting the Flames
Walk of Ages
Selena Rezvani
Pushback
Joe Robinson
Work To Live
Peter Roy and James Autry
The Book of Hard Choices
Wendy Rue and Karin Abarbanel
The Dollar Bill Knows No Sex
James Salzman
Drinking Water
Edith Schwager
Better Vocabulary in 30 Minutes a Day
Dan Seidman
Sales Autopsy
Eva Shaw
For the Love of Children
Jeffrey C. Shuman and Janice M. Twombly with David Rottenberg
Collaborative Communities
Everyone Is a Customer
Jeffrey C. Shuman
The Rhythm of Business
Kathleen Sindell
Safety Net
Loyalty Marketing for the Internet Age
The Unofficial Guide to Buying A Home Online
Jack Stahl
Lessons on Leadership
Barbara Stoker
Positive Risk
A Woman With A Minute
John Strelecky
The Why Are You Here Cafe
The Big Five For Life
Life Safari
John Strelecky and Tim Brownson
How to be Rich and Happy
Pamela Tsigdinos
Silent Sorority
Jean Walker
The Age Advantage
Curt Weeden
Smart Giving Is Good Business
Cynthia Whitcomb
Selling Your Screenplay
Writing Your Screenplay
Bonnie M. White and L. Douglas Pipes
Child Support
Stacy Whitman with Wynne Whitman
Shacking Up
Wynne Whitman
Smart Women Protect Their Assets
Wynne Whitman and Shawn Glisson
Wishes, Wants, and Wills
Susan Zimmermann
Writing to Heal the Soul
Michael Zwell
Six-Figure Salary Negotiation
---
Maury Allen
ALL ROADS LEAD TO OCTOBER: Boss Steinbrenner's 25 – Year Reign Over The New York Yankees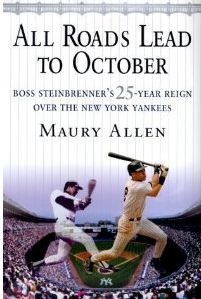 All Roads Lead To Octoberis the intimate story spanning from 1975 through 2000 of the people and events around the most celebrated sports team in history, the New York Yankees. Set into motion by the arrival of George Steinbrenner, the past 25 years have seen enormous triumphs, devastating losses, and everything in between for America's favorite team. All Roads Lead To October is wonderfully unique because of the remarkable anecdotes throughout the book that only Maury Allen knows – his intimate knowledge of the Yankees comes from having lived with the players, traveled with them, and having documented their doings over the last quarter of a century. He writes of details never before revealed.
Film option to HorsePower Entertainment
St. Martin's Press (North American English)
---
Maury Allen
Photography by Bob Olen
Foreword by Pulitzer Prize winning David Halberstam
In this gracefully written memoir, veteran New York sportswriter Maury Allen shows us that the magic of Mickey Mantle is eternal. While giving Mantle's achievements proper due, Allen goes beyond the numbers to reveal glimpses of the man that only an eyewitness like himself could share.
Maury Allen began covering the Yankees in 1959 for Sports Illustrated and The New York Post. He is the author of more than 30 books, including the bestselling biographyWhere Have You Gone, Joe DiMaggio? Bob Olen served as the Yankees official team photographer from 1947 to 1966, and he covered Mantle from his first year with the Yankees until 1995, the year of his death. Olen is currently a sports photographer for The New York Post.
Taylor Publishing (North American English)
---
Ryan Babineaux and John Krumboltz
What if your biggest mistake is that you never make mistakes?
Ryan Babineaux and John Krumboltz, psychologists, career counselors, and creators of the popular Stanford University course "Fail Fast, Fail Often," have come to a compelling conclusion: happy and successful people tend to spend less time planning and more time acting. They get out into the world, try new things, and make mistakes, and in doing so, they benefit from unexpected experiences and opportunities. Drawing on the authors' research in human development and innovation, Fail Fast, Fail Often shows readers how to allow their enthusiasm to guide them, to act boldly, and to leverage their strengths—even if they are terrified of failure.
Tarcher/Penguin (World English)
Purple Cow (Korea)
Nihonbungeisha (Japan)
---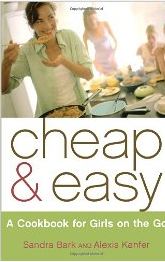 CHEAP AND EASY: Fast Food for Fast Girls
It's time for the on-the-go girl to learn the joy of cooking-made-easy with Cheap and Easy: Fast Food for Fast Girls by Sandra Bark and Alexis Kanfer.  Finally, a cookbook for the girl who will just as often eat at Babbo as crack the spine of a Batali cookbook; the girl who knows and loves good food but may not yet have found her tried and true recipes; the girl who's never seen the inside of her kitchen but is a little curious what it looks like; and the girl who is looking for the ultimate guide to delicious and simple meals that she'll actually want to make.
As alluring as the recipes in the book are Sandra and Alexis themselves.  Sandra is an editor at Warner Books and has worked on many cookbooks, including The Sopranos Family Cookbook, and Alexis, now at a literary agency, has worked as a line cook, a freelance food writer, and a home chef for the wealthy and crotchety.
Simon & Schuster/ Touchstone (World English)
---
WHY DID I MARRY YOU ANYWAY?:
12.5 Strategies for a Happy Marriage
We are told that if you meet the right person and fall in love, your marriage will thrive and you will be happy. However, while love is important, marriage is not based on love alone. Barbara Bartlein reminds us that a happy, successful marriage almost always is the result of hard work and commitment.
This is a helpful, humorous, and easy-to-read book that will result in positive changes in the lives of those who read it.
Barbara Bartlein is a therapist, professional speaker, successful businesswoman, and writer.
Cumberland House (retained all translation rights)
---
CONTINUITY MANAGEMENT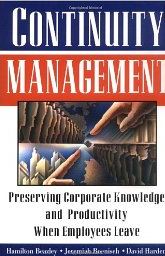 This book addresses a crisis that will inevitably hit our nation.  We are in danger of losing critical knowledge that will disrupt corporate performance and governmental services, and will have profound negative effects on the United States economy.  This loss of knowledge occurs when there are job transfers and will occur as the baby boomers begin to retire.  CONTINUITY MANAGEMENT seeks to analyze and publicize this crisis, analyze the chronic threat to both the public and private sectors posed by the loss of critical knowledge, and offers a solution that the authors have termed "continuity management" which is an effective and practical response to this looming crisis.
Dr. Hamilton Beazley has appeared on the Oprah Winfrey show, NBC, CNN, CNBC, and a variety of radio programs.  He has been quoted in The New York Times, The Washington Post, Los Angeles Times, USA Today, Newsweek and numerous other newspapers and periodicals.  He has also testified before committees of both the United States House of Representatives and the United States Senate as an expert witness.
John Wiley & Sons (World English)
CommonWealth Magazine (Complex Chinese/Taiwan)
Publishing House of Electronics Industry (Simplified Chinese/China)
IBL (Hebrew)
Grupo Editorial Norma (Spanish/Latin America))
---
NO REGRETS: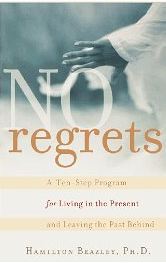 A Ten-Step Program for Living in the Present and Leaving the Past Behind
NO REGRETS focuses on making the present more productive and offers a practical solution to those whose lives are negatively impacted by the past.  The book's ten step program includes a set of specific actions and an orderly way to determine progress that provides structure and encouragement for readers.
Dr. Beazley is former president of the National Council on Alcoholism and Drug Dependence, Inc. and is a current member of the Executive Committee of the Division on Addictions of the Harvard Medical School. With several other recovery book titles to his credit, Dr. Beazley is often consulted as an expert on addiction recovery.
John Wiley & Sons (World English)
Red Edizioni/Boroli Editore (Italian)
Dauphin Blanc (French/Canada)
Pro MLV (Romanian)
---
A NEW BREED OF LEADER:
8 Leadership Qualities That Matter Most in the Real WorldWhat Works, What Doesn't, and Why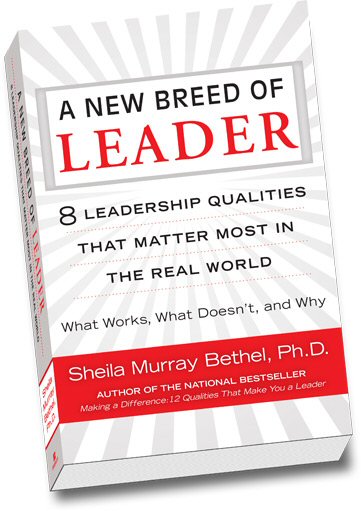 In A New Breed of Leader, Dr. Sheila Murray Bethel—global leadership expert, bestselling author, and award-winning speaker—will show readers how to develop the essential qualities needed to become an effective leader:
• Competence—building purpose
• Accountability—fostering trust
• Openness—generating integrity
• Humility—inspiring authenticity
• Language—connecting relationships
• Values—forging community
• Perspective—establishing balance
• Power—mastering influence
Filled with stories about and interviews with successful leaders such as golf legend Arnold Palmer; Andrea Young, CEO Avon Corporation; Howard Schultz, CEO Starbucks; and David Neeleman, CEO JetBlue; this book offers valuable insights and teaches readers how to take advantage of the immediately usable action steps.
Penguin (North American English)
---
THE VOICE OF AUTHORITY:
10 Communication Strategies Every Leader Needs to Know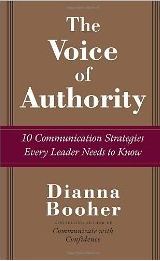 Fortune 500 consultant Dianna Booher is one of the world's foremost authorities on public speaking and business communication. She has trained and consulted for some of the top executives in leading companies-and she has heard all the grumbling between departments about "the lack of communication" today. Using 10 clear-cut strategies, she will show you exactly what to say, how to say it, when to say it, and even how to present yourself credibly-all crucial elements in business today.
Be Complete. Be Consistent. Be Concerned. These rules-and the seven others Booher outlines in this book-sound simple enough. But these essentials of good communication mark the difference between failure and success for any business, career, or relationship. Even if your communication technology changes-from e-mail and voice mail to teleconferencing and blogging-the rules remain the same. You have to be credible as a communicator.
The Voice of Authority is loaded with practical tips to help you
Sell your ideas and expand your influence
Inspire and motivate others to be part of a winning team
Handle crises in a way that builds rather than destroys trust
Identify critical characteristics that increase your credibility
From the most routine messages to more sensitive "bad news" subjects, you'll be able to manage reactions, communicate with clout, and lead others with success.
McGraw Hill (World Rights)
---
BOOHER'S RULES OF BUSINESS GRAMMAR:
101 Fast and Easy Ways to Correct the Most Common Errors
Published book available February 2008.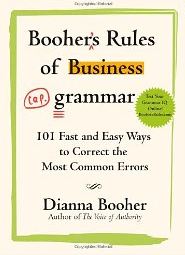 Scientists say that it is our language, our ability to communicate, that separates us from the animals. It is extremely important in this age of high speed communications that people communicate correctly. This is twofold. First, grammar is hardly taught in school anymore, and commonly misused words and phrases sprinkle correspondence and speech. Everyone is susceptible to these kinds of mistakes, from CEOs to high school students. VERBAL TEA attacks the most commonly confused rules of grammar and syntax through a light and easy to understand approach that any of grammar offender can follow.
Dianna Booher is one of the top 20 speakers in the country and has a proven sales record of over 40 published works. She founded Booher Consultants in 1980 and has since spread her valuable techniques around the world.
McGraw Hill (World Rights)
---
E-WRITING:
21st-Century Tools for Effective Communication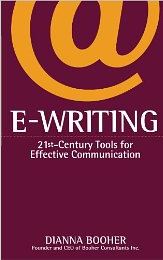 This book is an essential tool for all office professionals.  Dianna Booher offers clear, succinct advice on how to improve the basic areas of communication in business by fusing traditional grammar with modern electronic applications.  In an age full of technological advances in the field of communications, even top CEOs and the best administrative assistants often forget the most basic things.  This book reinforces the importance of the elements of clear communication.
Dianna Booher is the CEO of Booher Consultants, a communications training firm, and has sold her products and services to executives in 25 of the largest 50 corporations in America.  She is the author of 38 books, and she speaks nationally and internationally at conventions for the National Speakers Association and The American Society of Training and Development.  She was named one of the top 21 speakers of the 21st century by Successful Meetings magazine.  Dianna appears on a Yahoo site under their browser topics of "career" and "education/training" as one of their "Top 20" speakers/authors.  The other speakers include:  Steven Covey, Tom Peters, Faith Popcorn, among others.  Dianna also received the industry award, "1997 Consummate Speaker of the Year," an honor she shares with Margaret Thatcher.
Simon & Schuster/ Pocket Books (World English)
---
FROM CONTACT TO CONTRACT:
350 Proven Sales Tips to Generate More Leads, Close More Deals, Exceed Your Goals, and Make More Money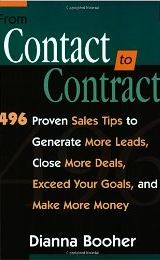 According to the US Bureau of Labor and Statistics, more than 16 million Americans work as sales professionals. Add in the vast number of small business owners, consultants, doctors, lawyers, and other professionals who must sell their services and promote their credibility in order to succeed, and it's clear that there's a huge need for practical, easy-to-apply information on the art of sales.
FROM CONTACT TO CONTRACT fills this need in a way no other book does. It offers broad coverage of each facet of sales in one easy-to-skim reference. From prospecting and presenting to consultative conversations and closing, the book provides a comprehensive collection of tips and best practices without getting bogged down in long explanations of sales theory and models. Dianna Booher has pulled together insights gained during her highly successful 21-year career as a sales and communication consultant to help readers understand how to:
Gain commitments from customers and prospects.
Manage their pipeline.
Generate leads.
Use strategic persuasion techniques to turn information into real communication.
Deal with difficult buyers.
Negotiate to maintain profit margins.
Sell across gender lines.
Stay motivated during a competitive upsurge or economic downturn.
FROM CONTACT TO CONTRACT is a sales primer professionals will use again and again. It is filled with practical techniques and advice they can learn quickly and put to use immediately.
Dearborn (World English)
Sitak Publishing and Book Corporation (Complex Chinese/Taiwan)
---
THE PERSONAL BUSINESS PLAN:
A Blueprint for Running Your Life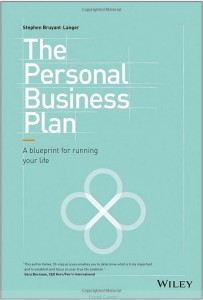 Find your life ambition and plan for success!
You'd never think to embark on a business venture without a thorough and coherent plan. So why do so many people stagger through life with no real strategy—just going with the flow, seeing what happens? It's time we gave our lives the same importance we give to our business exploits.
What you need is a compass—a tool which helps you when you're unsure which way to go and enables you to answer all the questions in your life. The Personal Business Plan will help you to understand and adapt the patterns in your life, so that you can feel free and focus on the future.
This essential guide offers a field-tested framework to help you define your purpose, plan your actions, reduce life's complexity, and create order from chaos. You'll develop a life ambitious attitude that will enable you to turn thoughts into action—and action into value. With a rich source of tools, techniques, templates, exercises, and case studies along the way, you'll learn how to become the best version of yourself and live a life that truly looks like you.
Experience the complete toolkit at www.thepersonalbusinessplan.com.
John Wiley (World English)
---
ONE STEP AT A TIME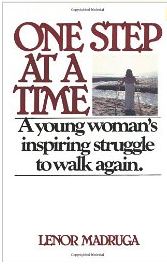 Lenor Madruga had stunning beauty, vibrant health, a handsome, loving husband, two wonderful young children, and a successful modeling career when, on the morning of her 32nd birthday, she discovered the small hard lump on her thigh.  Within a few nightmare months, she had barely saved her life – and lost her entire left leg to cancer.
First published in 1979 by McGraw-Hill and then translated into six languages, ONE STEP AT A TIME TELLS THE STORY OF Lenor's struggle to return from the abyss of pain, drug addiction, self-torment, and depression that threatened to swallow up her entire life.  Internationally embraced as the inspirational story of the 1980s, it is a triumphant story of her determination to dance, swim, water-ski, ride horses, make love – and do almost everything she used to do before her operation.  It is a story that will make you realize how great the power of love and faith and courage can be – the revelation of a woman who overcame all the odds to become whole again.
iUniverse
---
THE NEXT LEG OF MY JOURNEY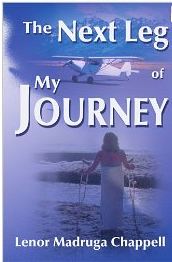 Award winning author and international speaker, Lenor Madruga Chappell continues to move readers with her latest book, THE NEXT LEG OF MY JOURNEY.  Lenor engages the reader with the intimate and heart wrenching details of the painful demise of her marriage, more painful she says than losing her leg.
Committed to living life, no matter what it brings, this remarkable story of learning to love again is just as uplifting and honest as its predecessor.  Beginning when she is forty years old, single and an amputee, fighting to rebuild her life to secure the future of her daughters as well as herself, this is a story of unbelievable will power and triumph.
iUniverse
---
THE HOUSE OF DIMON:
How JPMorgan's Jamie Dimon Rose to the Top of the Financial World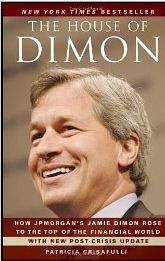 Patricia Crisafulli goes behind the scenes to recount the amazing events that have shaped Dimon's career, including his rise to prominence as Sandy Weill's protégé at Citigroup, only to be fired and denied the top spot; his orchestration of the JPMorgan acquisition of BankOne, a deal that brought Dimon back to Wall Street as CEO of JPMorgan; and the drama surrounding the purchase of Bear Stearns, which helped avert a government bailout, and the strategic acquisition of Washington Mutual.
Through interviews with Dimon, Weill, JPMorgan board members, and colleagues who've known Dimon over the course of his career, you'll gain rare access to one of today's savviest financial figures. Each step of the way, this engaging book provides insider accounts of how Dimon successfully acquired and integrated companies; reorganized underperforming units; created efficiencies; and grew bottom-line results as the consummate hands-on manager.
Most importantly, Crisafulli places Dimon in the context of contemporary Wall Street—an environment that has destroyed several top CEOs and led to the demise of numerous major financial institutions—and shows you how Dimon's management style, ability to inspire outstanding performance, and talent for taking calculated risks have allowed him to excel where many others have failed.
Jamie Dimon has flourished by avoiding alluring, but potentially catastrophic risks and taking advantage of strategic opportunities. During one of the most difficult and tumultuous periods in Wall Street history, he has survived and thrived. The House of Dimon reveals how he's done it and explores what lies ahead for Dimon, as he attempts to grow JPMorgan in the face of the unrelenting pressures of Wall Street.
John Wiley and Sons (World Rights)
---
COMEBACKS:
Powerful Lessons from Leaders Who Endured Setbacks and Recaptured Success on Their Terms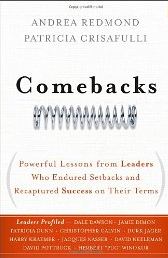 COMEBACKS features an all-star cast of ten business leaders who have endured career setbacks—for some a public fall in the midst of extreme media scrutiny—then reassessed and moved ahead with new purpose. Based on revealing interviews, the profiles in the book provide a behind-the-headlines glimpse into the lives of seasoned leaders, showing how they drew upon resources, both internal and external, to navigate their way forward and to learn leadership and life lessons that allowed them to redefine success. Together, the ten profiles reveal that all leaders face adversity, but true leaders turn adversity into success—and redefine success through their leadership. High-profile leaders featured include:
* Jamie Dimon, renowned chairman and CEO of JPMorgan Chase who, at the peak of his career with Citigroup, was fired as president.
* Former HP chair Patricia Dunn who, after a corporate espionage scandal hit the company, resigned as chairman and then faced felony charges while battling cancer. Completely exonerated, she is now active in philanthropic work.
* Former Baxter International CEO Harry Kraemer who, after twenty-two years at the pharmaceutical firm, had to step down after the company scaled back its earnings forecasts. He is now a highly regarded business professor at Northwestern University and an executive partner in a private equity firm.
* Former Ford Motor Company CEO Jacques Nasser who, forced to resign from the automaker after devoting years to the company, has recently assumed the prestigious position of chairman of BHP Billiton, the world's largest natural resources company.
* Former founder and CEO of JetBlue David Neeleman who, asked to step down after a series of weather-related delays in 2007 caused an uproar among passengers and consumers, has moved on to found a new airline in Brazil.
In turbulent economic times, when careers are derailed by layoffs and leaders are forced to rewrite their professional plans, Comebacks offers introspection that enlightens as well as uplifts. Honest and soul-searching, the stories in Comebacks will resonate with anyone who is experiencing a reversal, is disillusioned by career choices, or is exploring new paths that are better aligned with their values and priorities.
John Wiley and Sons (World English)
Oceano Mexico (Latin American Spanish)
---
RWANDA, INC.:
How a Devastated Nation Became an Economic Model for the Developing World
November 13, 2012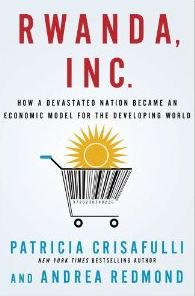 Eighteen years after the genocide that made Rwanda international news, but left it all but abandoned by the West, the country has achieved a miraculous turnaround. Rising out of the complete devastation of a failed state, Rwanda has emerged on the world stage yet again—this time with a unique model for governance and economic development under the leadership of its strong and decisive president, Paul Kagame.
Here, Patricia Crisafulli & Andrea Redmond look at Kagame's leadership, his drive for excellence and execution that draws comparisons to an American CEO and emphasizes the development of a sophisticated and competitive workforce that leverages human capital. In Rwanda, the ultimate turnaround, strong and effective leadership has made a measurable and meaningful difference. Rwanda's progress offers an example for other developing nations to lift themselves out of poverty without heavy reliance on foreign aid through decentralization, accountability, self-determination, and self-sufficiency.
The authors also explore Rwanda's journey toward its goal of becoming a middle-income nation with a technology-based economy, and its progress to encourage private sector development and foster entrepreneurship, while also making gains in education, healthcare, and food security—and all with a strong underpinning of reconciliation and unification. As so many nations stand on the brink of political and economic revolution, this is a timely and fascinating look at the implications of Rwanda's success for the rest of the continent—and the world.
Palgrave-Macmillan (World English)
---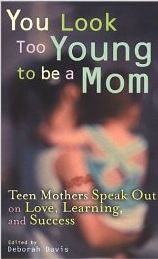 YOU LOOK TOO YOUNG TO BE A MOM:
Teen Mothers Speak Out on Love, Learning, and Success
Published book available 2004
YOU LOOK TOO YOUNG TOBE A MOM is an anthology of writing by women who became mothers as teens.  The contributors have written about subjects ranging from love to education, sleep deprivation to stereotypes.
Overwhelmingly, advice to teen mothers stems from the assumption that these young women have made a mistake and are a liability, but the contributors to this anthology write unapologetically and at times defiantly about the real joys and challenges of being young mothers.
Ariel Gore, teenage mother, founding editor of Hip Mama, and author of several books, is writing a foreword and Deborah Davis is the author of two YA novels published by Crown and Atheneum.  She has worked for six years with "at risk" teenagers, and as a doula, a birth assistant, for pregnant teenagers.
Penguin Group/ Perigee (North American English)
---
Hans Deuel
INVESTING IN INTERNET STOCKS:
How to Select the High Performers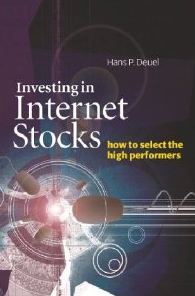 Investing in Internet technology stocks is exploding for both institutions and small investors in the US and the UK. Traditional businesses as well as younger businesses have prospects that depend on successful Internet implementations. The US is the first adopter of Internet technology, but the EU is following quickly. What are the business models that succeed, which have failed or will fail, and how can one get it right from an investment perspective? This book provides an overview of US past performance and prediction of UK future prospects of the Internet industry and all its different sectors.
Hans P. Deuel has been a successful technology investor for 12 years. He has a BS in Chemistry, a BA in Mathematics, and a  Ph.D. in Physical Chemistry from UC San Diego. He began investing in computer companies in the mid 1980's, when he first started using them. He began investing in computer companies when he first started using them.  He began investing in optics companies when he built and used lasers in the early 1990's. Hans is an atmospheric consultant, writing large-scale programs for computational modeling of the atmosphere and air pollution and  works at UC San Francisco in computational molecular biology, specifically the protein folding problem.
Kogan Page (UK English)
---
BLUE CATS AND CHARTREUSE KITTENS:
How Synesthetes Color Their Worlds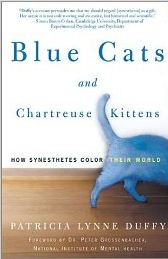 For most people, sight, sound, smell, taste and touch are experienced singularly and are not often (without the help of hallucinogenic drugs) experienced at the same time in the same context: Chicken doesn't taste pointy, the letter R is not orange, and the month of January isn't garnet red. One in 2,000 people, however, has reported having synesthetic experiences – where the customary boundaries between the senses seem to break down and sight and sound, or taste and touch, become interwoven.
Patricia Duffy has synesthesia. She only realized it when she turned 16 and was reminiscing with her father about when she learned to write the alphabet. She told her father that she was shocked and delighted to discover that to make the letter "R," all she had to do was add a line to the "P," thereby changing it from a yellow letter into an orange letter by merely adding a line.
BLUE CATS AND CHARTREUSE KITTENS is an exploration of a condition that modern science has largely ignored. Pat's personal story is augmented by her portraits of other synesthetes, and by the writings of many of the most famous synesthetes: Nabokov, Rimbaud, Richard Feynman, and many others. With an introduction by Peter Grossenbacher, the scientist at the National Institute of Health leading the studies about synesthesia, the project is a balance of both the scientific and the personal side of this fascinating neurological phenomenon.
Patricia Duffy is a language instructor at the United Nations and has had articles published inMs. Magazine, The Boston Globe, New York Newsday, and The Village Voice, among other publications.
First serial rights sold to Vogue Magazine, October 2001 issue
Henry Holt (World English)
Goldmann (German)
Hayakawa (Japanese)
---
CYCLES:
How We Will Live, Work, and Buy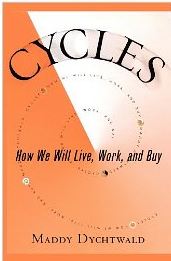 CYCLES will show that we are at the dawn of a "lifecycle revolution."  Spurred by increasing longevity, the speed of technologic change and the aging of boomers, this lifecycle revolution offers a release from a set of oppressive values, attitudes, and expectations that have defined our lives, how we've lived, and the kinds of products and services we buy — and when we buy them.
The new cyclic model that is emerging is more flexible in nature, offering each of us the chance to break free of the age-old assembly line of prescribed life passages and repeatedly reinvent ourselves so that we can, for example, go back to school at 25, 45, or 65, start a new career at 30, 50, or 70, or retire more than once in a lifetime.
This lifecycle revolution is hanging the very essence of who we are, what we do, when we do it, and how we'll buy products and services — everything from insurance to adventure travel, from cosmetics to real estate.  For business, the book offers a unique snapshot of the new empowered consumer and a new model for segmenting the marketplace.
Maddy Dychtwald is a nationally recognized public speaker, marketing executive, and entrepreneur.  Ms. Dychtwald is considered an authority on demographically-driven trends.  She co-founded Age Wave, Inc., the nation's premier consulting firm focused on the mature market.  She has been frequently featured in newspapers, magazines, and trade publications nationwide, has delivered speeches to more than 50,000 people worldwide over the last few years, and is an award winning producer of numerous communications programs including a PBS special depicting a positive image of aging.
The Free Press (North American English)
Sunbright (Complex Chinese/Taiwan)
Citic (Simplified Chinese/China)
Kobunsha (Japanese)
---
INFLUENCE:
How Women's Soaring Economic Power Will Transform Our World for the Better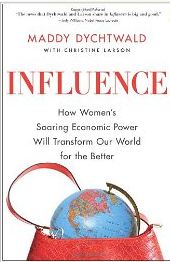 In the United States and in very many nations around the world, women are on the cusp of new financial power–and evidence suggests that women will use this power to improve society in ways we can only begin to imagine. Through candid interviews and lively reporting, and with exclusive research, Dychtwald reveals a huge cultural transformation that is about to occur–a true tipping point–after which more children may have quality health care and education, workplaces may be more responsive to families, men may experience new freedoms and opportunities to pursue more meaningful careers, and more corporations and nations will be led by women, and they will thrive.
Dychtwald and Larson give us a sneak peek at the world turned right-side-up by women. To read this book is to prepare oneself for an altered–and improved–way of life.
About the Author
Maddy Dychtwald is a nationally recognized demographer, marketing executive, and entrepreneur. With her husband, Ken, she is the co-founder of Age Wave, the nation's foremost thought-leader on population aging and its profound business, social, and cultural implications. As a public speaker, she has addressed more than 275,000 business leaders worldwide. The author of two previous books, she lives in San Francisco with her family.
Christine Larson is an award-winning journalist and author whose work has appeared in the New York Times, the Wall Street Journal, and many other publications. A 2010 Knight Fellow at Stanford, she lives in Sacramento with her husband and sons.
Hyperion (North American English)
China Times (Complex Chinese/China)
 Elsevier (Portuguese/Brazil)
Lijiang Publishing House (Simplified Chinese/Taiwan)
Auto Books (Korea)
---
AHEAD OF THE CURVE:
A Commonsense Guide to Forecasting Business and Market Cycles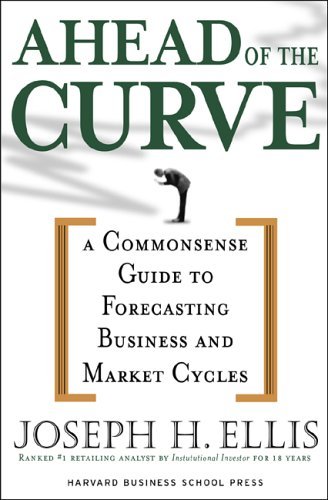 This is a practical guide vital for managers, amateur investors and economists alike. In this work, Joseph H. Ellis teaches readers how to predict the stock market and economic cycles, offering them an easy, hands-on, insider's approach. AHEAD OF THE CURVE is a must-read for anyone who wants to be successful in investing.
Joseph H. Ellis is a top retail analyst and a former general partner at Goldman Sachs.Institutional Investor Magazine ranked him as the #1 analyst for the retailing industry for 18 consecutive years. During his tenure at Goldman Sachs, Mr. Ellis was the principal author of the firm's publication, Retail Economic Indicators , which was widely hailed for its forecasting of major turning points in consumer spending and general economic activity.
Harvard Business School Press (World English)
TIEM (Turkish)
Leaders Book Publisher (Korean)
China Machine Press (Simplified Chinese/China)
Energyx Corporation (Japanese)
---
THE POWER OF UNREASONABLE PEOPLE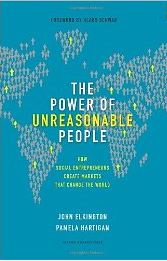 John Elkington is the world's leading authority on corporate social responsibility, a field that has recently attracted the attention of influential leaders like Al Gore and David Blood, former CEO at Goldman Sachs. John has authored of over 15 books on the topic, including GREEN CONSUMER GUIDE that sold one million copies. Pamela Hartigan is the Managing Director of the Schwab Foundation for Social Entrepreneurship, started by Klaus and Hilde Schwab in 2000, founders of the famous World Economic Forum which takes place in Davos each year. As the media partner for the US, Fast Company helps decide the top social entrepreneur in the country to be honored ahead of Davos 2006. Both authors are working together to nurture the growing global community of social entrepreneurs.
This highly qualified team explores the inner workings of the world's top social entrepreneurs through interviews, stories, and lessons. Global sustainable capitalism has developed in waves, with the next wave right around the corner. The leaders in social entrepreneurship share developing opportunities and what to expect in the future.
Harvard Business School Press (World Rights)
---
ZERONAUTS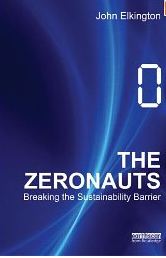 In the last century, Astronauts launched into the heavens, in search of new worlds to colonize, their adventures helping to catalyze the evolution of everything from non-stick frying pans and minicomputers to satellite telecommunications. Their work forced our species to recognize that our Earth is a very rare planet indeed and our only home for the foreseeable future. Now a new wave of explorers, adventurers and entrepreneurs is pioneering novel ways to create wealth in tune with the twenty-first century reality of a human population pushing towards 10 billion people by mid-century and with key elements of the planet's biosphere already coming apart at the seams. These are the Zeronauts.
Featuring contributions by 25 of the world's leading innovators and drawing on interviews and surveys of many more, the book showcases the pioneers that are at the cutting edge of the global sustainability movement, which the author, John Elkginton, has helped create and lead over several decades. Elkington introduces the emerging disciplines of zero-impact design, engineering and management through the personal experiences and reflections of the leading practitioners putting us on a path to a zero impact economy: Zero Risk, Zero Emissions, Zero Pollution and Waste, Zero Biodiversity Loss and Zero Population Growth. Leading Zeronauts explain how they came to wake up to the challenges, they speak about the mistakes they have made along the way and the lessons they have learned in the process, offering their advice on how we can get others to the same point in terms of thinking and action. From this, Elkington distils a concise set of rules for success.
Concluding with recommendations for governments, investors, innovators and educators, the book shares the lessons learned from scores of people worldwide who are helping define the scale of the challenges our species now faces and, crucially, developing and deploying at scale some of the solutions that will provide the building-blocks of tomorrow's economies and the foundations for some of the future's greatest fortunes.
Earthscan (World English)
---
THE BREAKTHROUGH CHALLENGE: 10 Ways to Connect Today's Profits with Tomorrow's Bottom Line
The world's most forward-looking CEOs recognize the real challenge facing business today: a fundamental shift in the nature of commerce. While sustainability programs, government action, and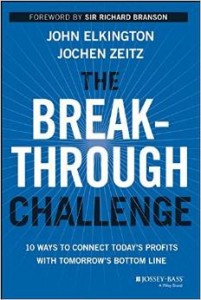 nonprofits are all parts of the solution, CEOs and other leaders must focus on social, environmental, and economic benefit—not only because it will make the world a better place, but because it will ensure lasting profitability and success in the business climate of tomorrow.
The Breakthrough Challenge is both an inspiring call-to-action and a guide for this transformation, based on the work of The B Team, a major initiative uniting leaders in sustainability. As a founding advisor and member of The B Team, John Elkington and Jochen Zeitz map out an agenda for change. The most important goal for businesses must be redefining the bottom line to account for true long-term costs throughout the supply chain. To achieve this, leaders must rethink everything: what counts on balance sheets, how to incentivize performance, who does what in the C-suite, and even what inspires us. The Breakthrough Challenge draws on over 100 exclusive interviews to show this shift in action, sharing the pioneering work of leaders such as Paul Polman, CEO of Unilever; Arianna Huffington, founder and CEO of The Huffington Post; Peter Brabeck-Letmathe, chairman of the Nestlé Group; and Linda Fisher, pioneering Chief Sustainability Officer at DuPont, among many others.
Change-as-usual strategies are not enough to move business from breakdowns to breakthroughs. The Breakthrough Challenge shows leaders how to achieve a true transformation and refocus the definition of profitability on the lasting wellbeing of people and planet—for the lasting success of their business.
Jossey-Bass
---
Matt Eversmann
BATTLE OF MOGADISHU: First-hand Accounts from Operation Gothic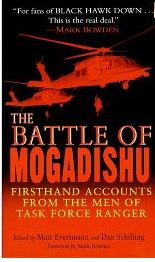 Serpent
"At liftoff, Matt Eversmann said a Hail Mary."
So begins Mark Bowden's New York Times Bestseller, Black Hawk Down.  It tells the story of the US offensive in Somalia in 1993 and is one of the most riveting and frightening accounts of warfare ever recorded.  Bowden's portrayal of the brave men of the Ranger and Delta forces immortalized them as heroes.
Matt Eversmann is one of those heroes.  His acts of bravery in battle made it to the big screen when Black Hawk Down was released nationwide.
After leading his men through the bloody streets of Mogadishu, Somalia — the longest sustained firefight involving American troops since the Vietnam War — Matt Eversmann emerged physically intact but emotionally transformed. With a foreword by Mark Bowden, MODERN WAR is an anthology of first person narratives by the men who fought this battle, then men of the 75th Ranger Battalion.  The closest one can get to knowing what life is like in battle, MODERN WAR is as chilling as it is moving.
Random House/ Presidio Press(retained all translation rights)
---
SELLING WOMEN SHORT:
The Landmark Battle for Workers'

 Rights at Wal-Mart
SELLING WOMEN SHORT, written by journalist Liza Featherstone, explores the groundbreaking lawsuit brought against Wal-Mart Stores Inc., with more than one million current and former female employees seeking class-action status — making it the biggest employment discrimination lawsuit ever.  The battle will be public and it will be brutal, and it could potentially change the way women everywhere are treated in the workplace.  Liza uses the case less as a narrative and more as a springboard from which to look at Wal-Mart, sexism, low-wage work, and poverty.
Liza Featherstone writes on both feminism and labor issues.  She is a frequent contributor to The Washington Post, The Nation, and Newsday.  Her work has also been published in The New York Times Book Review, Rolling Stone, Ms., Nerve, Salon, The Village Voice, The Boston Phoenix, The San Francisco Bay Guardian, among many other publications.  She is the author of STUDENTS AGAINST SWEATSHOPS which was published by Verso in Spring 2002.
Basic Books (North American English)
VSA-Verlag (German) 
---
 THE WISDOM OF TITANS:
Secrets of Success From Entrepreneurs Who Rose To The Top
William J. Ferguson takes entrepreneurship to the next level: becoming a business titan. Reaching these new heights of success can be challenging and time-consuming. With the right mentorship readers are sure reach business titan status. Ten of the top business titans such as, Bill Marriott and Julia Stewart, share how they made it in the industry so readers can do it too.
Bibliomotion (retained translation rights)
---
HOW TO BECOME CEO:
The Rules for Rising to the Top of Any Organization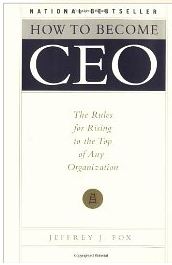 New York Times bestseller
Wall Street Journal bestseller
# 3 Business Week bestseller
Employees and recent graduates everywhere are asking, How do I get ahead? How can I become CEO? This book has the answers. In How to Become CEO , consultant Jeffrey Fox has written an insightful handbook of traits to develop for all generations of CEO aspirants – or for anyone who wants to get ahead in today's business world. Open it to any page and find a short, provocative piece of brutally honest advice written in a conversational tone.
This is a book of hard-headed idealism that will empower you to develop the qualities that are required of leaders.
Jeffrey Fox earned his MBA at Harvard Business School, and is the founder of Fox & Co., a premier marketing consulting company.
"Marketing executive Jeffrey Fox uses a brief, one-theme-per-chapter format to inform us How to Become CEO. He advises handwritten notes for congratulations, thank-yous, etc…and he lists 16 books to study, from the Bible to Shakespeare, without a traditional management book in sight…if you do benefit from this book and one day make it to CEO, do the right thing and send Fox a thank-you note. Handwritten, of course."
— USA Today
"Fox heads his own marketing consulting company, and he demonstrates here that he knows how to package an idea. Fox's guide is filled with 75 tips that are short, sweet, and to the point. Moreover, the ideas themselves are fresh…Refreshing!"
— Booklist
Selection of the Book-of-the-Month Club's Money Book Club
First serial rights sold to Mademoiselle
Audio rights sold to Audio Renaissance
Hyperion (North American English)
Dar El Ilm Lilmalayin (Arabic)
Editoria Campus (Portuguese/Brazil)
Ediciones Gestion (Portuguese/Brazil)
Liaoning Education Press (Simplified Chinese/China)
China Times (Complex Chinese/China)
Barka (Croatian)
Pragma (Czech)
Egmont Wangel (Danish)
Sinisukk (Estonian)
WSOY (Finnish)
Editions De L'Archipel (French)
Econ (German)
Achiasaf (Hebrew)
Sperling & Kupfer (Italian)
Asian Advertisers (Japanese)
GoldenBough/ Minumsa (Korean)
Norma (Spanish/Latin America)
Sviesa Publishers (Lithuanian)
Uniboek (Dutch)
Editura Teora (Romanian)
Alpina (Russian)
Tangram (Slovenian)
Gestion 2000 (Spanish/Spain)
ISL (Swedish)
SE-Education (Thai)
Alteo Ltd. (Turkish)
Pegasus (Turkish)
Random House UK (UK English)
Kritiki (Greek)
Penerbit Erlangga (Indonesian)
Vocatio (Polish)
Audio Renaissance (Audio)
---
HOW TO BECOME A RAINMAKER:
The People Who Get and Keep Customers and Clients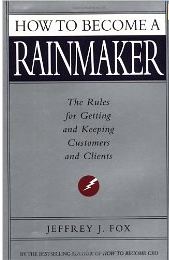 In the vein of his bestsellingHow to Become CEO, Jeff Fox has created what will be another mega-seller. With solid advice in a remarkably accessible format, How to Become a Rainmaker will follow in the tremendous footsteps of CEO. Only Jeff Fox has the expertise and the style to give readers applicable advice on how to be the best sales person possible, no matter what the industry or position.
Business Week bestseller
Audio rights sold to Audio Renaissance
Committed high five-figure marketing plan from Hyperion
Hyperion (North American English)
Dar El Ilm Lilmalayin (Arabic)
China Times (Complex Chinese/Taiwan)
Sinisukk (Estonia)
Oy Rastor Ab (Finnish)
Editions De L'Archipel (French/France)
Econ (German)
Kritiki (Greek)
Achiasaf (Hebrew)
IBL (Hebrew/condensed version)
Accari FCB Banraisha (Japanese)
Thenan (Korean)
Editorial Diana S.A. (Spanish/Mexico)
Curtea Veche Publishing (Romanian)
Ediciones Martinez Roca (Spanish/Spain and Latin America)
Svenska Forlaget (Swedish)
Alpha (Vietnam)
Random House UK (UK English)
Penerbit Erlangga (Indonesian)
Century (Simplified Chinese/China)
Alpina (Russian)
Vocatio (Polish)
SE-Education (Thai)
Nightingale-Conant (Audio)
---
HOW TO LAND YOUR DREAM JOB:
No Resume! And Other Secrets to Get You in the Door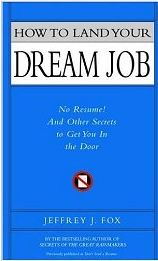 Formerly DON'T SEND A RESUME.
DON'T SEND A RESUME has been relaunched as HOW TO LAND YOUR DREAM JOB. Jeff explains the intricacies of landing a job by comparing the interview to a sales call.  He teaches the reader to think in terms of using a resume as sales literature, that the potential employer is actually your customer, and that you are both the salesman and the product being sold.  He uses fun and interesting examples such as chapter one, which is called "You Are A Box Of Cereal."  Perfect for recent graduates or people making career changes at any point in their lives, DON'T SEND A RESUME plays it straight.  Jeff offers some tried and true advice, but in the tradition of How to Become CEO, has ideas and strategies most of us have never heard of, let alone thought of.  He has interviewed thousands of people and has compiled his advice in this remarkable book that not only makes sense but is fun to read as well.
Audio rights sold to Audio Renaissance
Hyperion (North American English)
Penerbit Erlangga (Indonesian)
Random House (UK)
China Times (Complex Chinese/Taiwan)
L'Archipel (French)
Redline (German)
Jinmyong (Korean)
Norma (Spanish)
Century (Simplified Chinese/China)
Alpina (Russian)
Vocatio (Polish)
---
HOW TO BECOME A GREAT BOSS:
The Rules for Getting and Keeping the Best Employees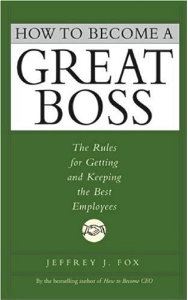 In HOW TO BECOME A GREAT BOSS, Jeff Fox strikes again with his candid and creative advice, this time for employers who want to maximize their employees' potential. This book lays out new, direct and pertinent rules for interacting with employees, including how to determine the cause of poor performance and alleviate it, and how to reward workers in simple but important ways. With humorous and heartening examples, Fox provides essential yet easy to follow advice for grooming hard-working, trustworthy, and happy employees—the key to success in any type of business.
Audio rights sold to Hyperion Audio
Hyperion (North American English)
Century (Simplified Chinese/China)
Nakladatestvi (Czech)
Sinisukk (Estonia)
Editions de L'Archipel (French/France)
Redline (German)
Kritiki (Greek)
Sperling & Kupfer (Italian)
Thenan (Korean)
Kobunsha (Japanese)
Editora Ciencia Moderna (Portuguese/Brazil)
Norma (Spanish/Latin America)
China Times (Complex Chinese/Taiwan)
Random House UK (UK English)
Alpina (Russian)
SE-Education (Thai)
Vocatio (Polish)
---
HOW TO BECOME A MARKETING SUPERSTAR:
Unexpected Rules that Ring the Cash Register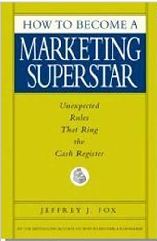 Jeff Fox turns his contrarian eye to marketing through brand building and innovation. His advice is delivered in snappy, to-the-point chapters that zero in on his creative and often counterintuitive advice and features such unforgettable fundamentals as:
Make a big splash, instead of a lot of little ripples
Always have a pipeline to the president
Own a market, not a mill
The long and short definitions of marketing
There are also provocative "Instant Marketing Superstar" challenges throughout the book, offering the reader a chance to solve real business problems. In a time of corporate budget cuts, it's more important than ever for all employees to be creative marketers. HOW TO BECOME A MARKETING SUPERSTAR is certain to find a place on the shelves of anyone who wants to increase sales in a competitive marketplace.
Audio rights sold to Hyperion Audio
Hyperion (North American English)
Sinisukk (Estonian)
Oy Rastor Ab (Finnish)
Editions de L'Archipel (French/France)
Zahra (Indonesia)
Kobunsha (Japanese)
Thenan Publishing Company (Korean)
Editorial Presenca (Portuguese)
Century (Simplified Chinese/China)
Editorial Sintesis (Castilian/Spain & Latin America)
China Times (Complex Chinese/Taiwan)
Se-Education Public (Thai)
Random House (UK English)
Alpina (Russian)
Vocatio (Polish)
---
HOW TO MAKE BIG MONEY IN YOUR OWN SMALL BUSINESS:
Unexpected Rules Every Small Business Owner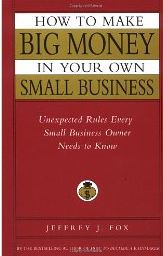 Needs to Know
Ever dream of starting your own business? According to USA Today , more than 47 million people want to own their own businesses and over 20 million actually do. InHow to Make Big Money in Your Own Small Business , bestselling business author Jeffrey Fox offers sound rules to succeeding in small business, whether you're running a bookstore, consulting business, or restaurant.
This book will flood you with ideas for your own small business (or even your big one).
Hyperion (North American English)
Century Publishing (Simplified Chinese/China)
Sinisukk (Estonian)
Editions de L'Archipel (French)
Kritiki (Greek)
Sperling & Kupfer (Italian)
Golden Bough (Korean)
Editorial Presenca (Portuguese)
Alpina (Russian)
Svenska (Swedish)
Se-Education (Thai)
Random House (UK English)
Vocatio (Polish)
---
SECRETS OF GREAT RAINMAKERS:
Keys to Success and Wealth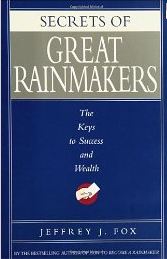 What's better than getting business advice from Jeffrey J. Fox, a proven rainmaker and bestselling author? Getting tips, tricks and potent stories from famous and soon-to-be discovered rainmakers from around the world with proven track-records and new ideas in selling, customer service, innovation and business strategy.
Jeffrey J. Fox's books are published in over 80 different language versions, with close to one million copies in print.
SECRETS OF THE GREAT RAINMAKERS was sold to Hyperion in a major deal in January, 2004. This is the author's seventh book with the publisher.
Hyperion (North American English)
Toyo Keizai (Japanese)
Alpina (Russian)
Vocatio (Polish)
GOA Yayincilik (Turkish)
Vermilion (UK)
Se- Education (Thailand)
Audio Renaissance (Audio)
---
HOW TO GET TO THE TOP:
Business Lessons Learned at the Dinner Table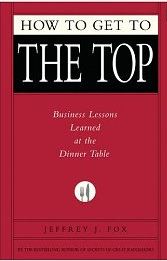 Do you want to get to the top? Do you want to know how to rise above the crowd and become a leader in your field? Then this is the book for you. In How to Get to the Top, bestselling author Jeffrey J. Fox combines his own experience as an extremely successful entrepreneur with lessons learned at the family dinner table by business leaders such as Howard Schultz, CEO of Starbucks; Tom Chappell, founder of Tom's of Maine; Leslie Blodgett, CEO of Bare Escentuals; and George Steinbrenner, principal owner of the New York Yankees. The essential guide on how to get to the top — and stay there — this compelling book contains hard-hitting advice on independence and self-reliance, management dynamics, and problem solving, including:
–You can't unsour the milk.
–Speak sweetly: You may have to eat your words.
–Tip as if you were the tippee.
–Act like you own the place.
–You have to know the rules to break them.
–Never be late.
–Always compliment the chef . . . especially at home.
–Teach your girls to whistle.
–Spend the company's money as you would your own.
–Don't teach the quarterback to catch.
Hyperion (North American English)
Audio Renaissance (Audio)
Elsevier (Portuguese/Brazil)
Borsenmedien (German)
Sperling & Kupfer (Italian)
Tokuma Shoten (Japanese)
Next Wave Publishing (Korean)
Vocatio (Polish)
Alpina (Russian)
Yuan-Liou (Complex Chinese/Taiwan)
Se-Education (Thai)
Goa ( Turkish)
Random House UK (UK English)
---
RAIN: WHAT A PAPERBOY LEARNED ABOUT BUSINESS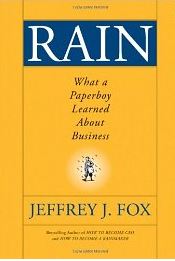 RAIN is the first business parable written by bestselling business book author Jeffrey J. Fox. The parable follows a young New England paperboy, named Rain, as he learns the business of being in business and quickly becomes the best paperboy in town.
Through a series of humorous poignant vignettes, Jeff illustrates forty "rainmaker" business lessons that can be applied to not only paperboys, but anyone in business and sales. Rain's time as a paperboy proves to be just as valuable as getting an MBA.
Rain includes "The Rain Reader," a series of actionable business takeaways and practical advice to make anyone a rainmaker.
Jossey-Bass (World English)
Brilliance Audio (Audio)
Next Wave (Korean)
Taiwan Mansion (Complex Chinese)
Sumnukpim (Thai)
Sripatum University Press (Thai)
Pegasus (Turkish)
---
HOW TO BE A FIERCE COMPETITOR:
What Winning Companies and Great Managers do in Tough Times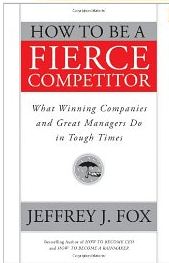 From best-selling author Jeffrey J. Fox, how the savvy see opportunity — and capitalize on it.
Economic downturns separate the winning companies from the struggling. And as best-selling author Jeffrey J. Fox shows, tough times also give solid companies, strong managers, and potential rainmakers the opportunity to seize market share. In this eminently readable, practical resource for business leaders and managers, Fox explains exactly how the savvy few who rise to the top stay focused and alert, get new market share, hire good recently fired talent, increase investments into customer service, speed innovation, train all customer facing people, make acquisitions, get rid of underperformers, build brand names, pay for measurable performance, and lots more.
Potential rainmakers, CEOs, marketing superstars, and great bosses have long turned to Jeffrey J. Fox for advice. Now he shows exactly what to do to weather any climate.
Jossey-Bass (World English)
Infodar (Bulgarian)
L'Archipel (French)
Thenan (Korean)
Alpina (Russian)
---
Based on 20 years of application in the trenches of sales and marketing, DOLLARIZATION DISCIPLINE is the first practical guide to applying the discipline of economic value creation to pricing and selling. Marketing consultants Jeffrey Fox and Rick Gregory introduce a framework for translating any product or service benefit into measurable financial gain for customers. Dollarization helps the customer make the right economic decision and enables the marketer to profit from the "value added" it delivers.
John Wiley & Sons (retained World English rights)
Vocatio (Polish)
---
THE TRANSFORMATIVE CEO: 
Impact Lessons from Industry Game Changers
May 18, 2012
"Fox and Reiss have created a new leadership category—The Transformative CEO."
—Rafael Pastor, CEO, Vistage International
Bestselling author Jeffrey Fox literally wrote the book on How to Become CEO, and radio talk show host Robert Reiss has explored strategy with some of the world's biggest business legends.
Now, in The Transformative CEO, they have identified the key traits and characteristics that describe this remarkable type of leader.
Filled with fascinating insights from superstar CEOs, this one-of-a-kind guide puts you right on the front lines with the men and women who have transformed businesses with spectacular success. You'll learn how to:
Turn around a company(Marvel Entertainment)
Build superior customer service(Zappos)
Think big and go global(MTV International)
Perform while transforming(UPS)
Have a higher purpose(ING DIRECT)
Innovate and make everything better(Eggland's Best)
You'll learn how CEOs think and act in good times and bad—and you'll get a front-row seat to some of the most profitable industry game changers of our time, including AT&T Mobility, Danaher Corp. and many others.
The Transformative CEO provides a new definition of leadership. Jeffrey J. Fox and Robert Reiss show how anyone can become a transformative leader.
McGraw-Hill (World English)
Random House (Korean)
Editora Rocco Ltda (Brazilian)
Pegasus (Turkish)
---
Shayne Gilbert
90 DAYS TO LAUNCH:
Internet Projects on Time and on Budget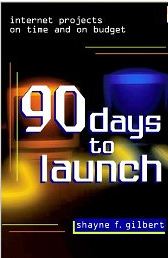 A recently completed study by the Gartner Group estimated that medium to large companies spent, on average, $350,000 to $2 million on building e-commerce enabled websites last year. This spending created a global market for Internet services in 1998 of approximately $7.8 billion. 90 Days To Launchis not a book for designers or developers, nor is it a book for dummies, idiots, or other self-professed novices to the Web. It is for the person or small group of people in every organization who is responsible for planning and delivering a site on time and on budget. 90 Days To Launch delivers succinct information that will enable the Internet manager to streamline and deliver a website that will meet the underlying business objectives of the organization.
Shayne Gilbert founded Silverweave Interactive in 1994 with the objective of applying proven business strategies to the emerging market of the Internet. Her clients include FleetBank, Ernst & Young (MKO Division), Addison Wesley, BankBoston, and many others. A leader in the interactive industry, Shayne is the president of The Cyber District Association. She is an adjunct faculty member at Massachusetts Communications College and Marlboro College. Her work has been recognized in The Wall Street Journal, The Boston Globe, and Wiredmagazine.
John Wiley & Sons (World English)
Pearson (German)
Yuan-Liou (Complex Chinese/Taiwan)
IBL (Hebrew)
Softbank (Japanese)
---
J. Barry Griswell and Bob Jennings
THE ADVERSITY PARADOX:
An Unconventional Guide to Achieving Uncommon Business Success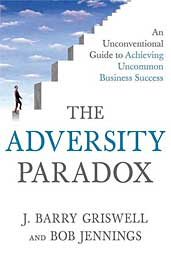 Harvey Mackay, Doris Christopher, Pete Dawkins, Clay Jones and John Pappajohn know that the answer to how you recover from career toppling adversity, and then go on to achieve pinnacles of success lies in firsthand knowledge of "the adversity paradox". They all attest to having found that the knowledge they gained from overcoming adversity played such a crucial role in their success trajectories, they now consider adversity a friend.
While many motivational business books promise easy access to prosperity and power by way of secret insight, quick and easy steps, or "insider tips" that are dubious at best, The Adversity Paradox tells it straight and offers no secret formula or silver bullet; instead it offers candid accounts from those whose skills, resourcefulness, and confidence have been tested by adversity and who have put their misfortunes to good use by gaining invaluable business lessons from them.
The paths to success are diverse, but The Adversity Paradox identifies patterns that anyone can study and learn from. Business people working to overcome humble beginnings, lack of knowledge, unexpected setbacks, or any manner of misfortune may find the greatest tool for creating business success lies in this new book.
J. BARRY GRISWELL is the retired chairman and chief executive officer of the Principal Financial Group. BOB JENNINGS is president of Lean Management Inc., a consulting company focused on senior management methods and execution.
St. Martin's Press (North American English)
Soundview (Audio)
---
HEALING CONVERSATIONS:
What to Say When You Don't Know What to Say
 HEALING CONVERSATIONS is a collection of poignant stories and proven advice to help friends, family, and colleagues support one another during times of crisis and change.  Nationally recognized executive coach Nance Guilmartin has spent a lifetime bringing people together, and helping others to breakthrough and help themselves.
Nance has worked with Fortune 500 companies nationwide and was press secretary to U.S. Senator Paul Tsongas.  In addition to the Designated Driver and For Kids' Sake campaigns, Nance has launched award winning community action initiatives on drug abuse, hunger, disability, and Alzheimer's disease.  She is the recipient of numerous national awards as well as four Emmys from the New England Academy of Arts and Sciences.  But, beyond all her professional accomplishments, Nance has a remarkable gift for connecting with people and helping them communicate what they feel they cannot.  And not merely communication with words:  Nance teaches the art of a more profound communication achieved through listening.
The stories Nance has provided offer not only touching, often humorous, accounts of the trials we face in life, but sound and sage advice on how to bravely face these challenges and help others to do the same.  The stories are short and meant to be read when inspiration is needed.  You only have to read a story once to learn a lesson that can help others for a lifetime.  These are stories to be shared and what tears you shed will prove cathartic just as the laughter you find will prove contagious.
Jossey-Bass (World English)
Bertrand-Brasil (Portuguese)
China Industry & Commerce Associated Press (Simplified Chinese/China)
NLN s.r.o.(Czech)
Sogides (French)
Goldmann (German)
Haneon (Korean)
Ankh-Hermes (Dutch)
Editura Trei (Romanian)
Svenska (Swedish)
Cite (Complex Chinese/Taiwan) 
Goa (Turkish)
---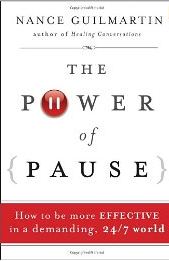 THE POWER OF PAUSE
In Nance Guilmartin's second book, she explains how taking a moment to reevaluate our circumstances allows us to make better decisions and avoid disastrous miscommunications. For years Nance has been teaching audiences the concept of pausing. In our increasingly fast-paced world, split second decisions are becoming more difficult to make and the effect of wrong decisions is becoming more explosive.
THE POWER OF PAUSE teaches readers how to stop automatically moving recklessly forward, how to regain control of our thoughts and actions, and how to find all the unknowns in a situation. In the workplace, in government, and at home, it is more important than ever that meanings do not get lost in the shuffle.
An expert communicator, Nance is an Emmy award-winning journalist, former congressional press secretary, consultant and keynote speaker. She has taught communications courses at Tufts University. Her previous book, HEALING CONVERSATIONS: What to Say When You Don't Know What to Say has been published in 11 languages worldwide.
Jossey-Bass (World English)
Oceano Mexico (Latin American & North American Spanish)
Business Books Publishing (Korean)
Editura Trei (Romanian)
Mufone Publishing (Complex Chinese/Taiwan)
Beijing Xiron Books (Simplified Chinese/China)
---
Sue Hitzmann
A Breakthrough Self-Treatment System to Eliminate Chronic Pain, Erase the Signs of Aging, and Feel Fantastic in Just 10 Minutes a Day!
Having a pain free body is possible with The MELT Method.Manual therapist Sue Hitzmann shares easy techniques that focus on exercising the body's connective tissue. She uses her own brand of balls and body rollers so that the process is most effective. Each exercise is explained with step-by-step directions and illustrations so that you can achieve long lasting results in minutes.
New York Times Bestseller
Appearance on The Dr. Oz Show

HarperOne (World English)
Faces Publications (Complex Chinese/Taiwan)
Anu Elara (Slovenian)
Euromedia Group (Czech)
Edicione Obelisco (World Spanish)
Marti (Turkish)
Ido No Nippon Sha (Japan)
MVG (Germany)
Yeamoonsa (S. Korea)
---
Dutch Holland
CHANGE IS THE RULE: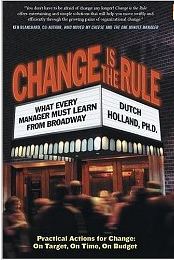 Practical Actions for Changes On Target, On Time, On Budget
What all managers and Senior Executives need in this time of globalization and constant change to remain competitive and remain successful is to first learn change.  Dutch Holland has been helping organizations deal with changes varying from shifts in strategy to right-sizing to restructuring organizational change since he started his own consulting company in 1970.
As Chairman and CEO of Holland & Davis, Dutch Holland is also Professor of Management, Department Chair, and Director of a Management Development Center at the University of Houston.
Dearborn Press (retained all translation rights)
---
Dutch Holland
RED ZONE MANAGEMENT:
Changing the Rules for Pivotal Times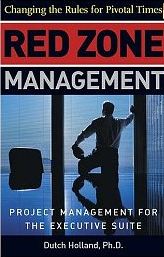 In football, the Red Zone is the last twenty yards on the way to a touchdown.  The Red Zone playbook contains that special set of plays that history has shown to have the statistically highest chance of success in a do-or-die situation.
Businesses also have Red Zones, special times and places when they must shift to a new way of managing to continue to move toward a successful future.  Unfortunately, in business there are no 20-yard markers, so managers have to recognize the Red Zone by looking at the critical initiatives of their company and applying what Dutch Holland has created as "Red Zone Management."
Dearborn Press (retained all translation rights)
---
Todd Hopkins and Ray Hilbert
CARROT CHASER
True love cannot be measured in financial terms. This inspirational story centers on Matthew Swift, a young executive who loses it all. After reexamining the meaning of life, he finds love, forgiveness and four keys to success.
Sam & Parkers (Korean)
Kodansha LTD (Japanese)
---
THE NEATEST LITTLE GUIDE TO MUTUAL FUND INVESTING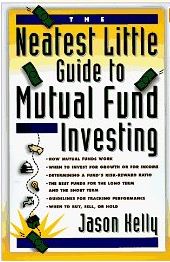 Today there are more and more mutual funds, as more and more people understand that mutual funds are the best place to put money. So how do you find the funds that are right for you without spending a lifetime trying to become a market maven and finding yourself buried in graphs and charts? What you can do is spend a little time with the swiftest, surest, smartest book ever to lead you through the mutual fund maze with wit and wisdom. No other guide provides the information in such a clear, concise, and captivating way.
"The Neatest Little Guide stands alone. There is no other book on the market like this one." — Michael H. Sherman, chairman, Sierra Global Management
Penguin Group/Plume (North American English)
---
THE NEATEST LITTLE GUIDE TO STOCK MARKET INVESTING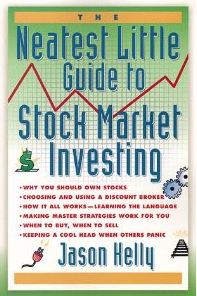 Second edition published January 2004
This is the bestselling title of the series so far, although the brand new Making Money Onlinecould change that.
Jason Kelly shows the reader how to invest with this eye-opening, user-friendly handbook that puts all the information necessary in clear and uncomplicated language. He combines friendly guidance with sound financial expertise from master strategists, enabling the reader to navigate the fiscal tides.
This is the first book to cover strategies from expert investors like Warren Buffet, automated techniques such as the Dow Dividend approach, and individual research guidance for finding your own millionaire-makers using the Internet and traditional publications.
The book includes unique worksheets that gather everything you need to find and track your portfolio of stocks.
Perhaps nobody has written higher praise for the book than its readers at Amazon.com. So far, every reviewer has awarded the book five stars. The following is Jason's favorite comment:
This book is a gem. It's the only new book about stock investing to earn a place beside the classics by Graham, Fisher, and Lefevre. Jason Kelly has a splendid way with words and teaches everything a person needs to know to profit from the stock market. He even manages to get a laugh here and there, something I've found to be rather rare among money books. While this title may be redundant to old pros, it is the best choice for novices. That said, this old pro found himself engrossed in the pages for an entire evening. Mr. Kelly, take a bow. You've penned the newest classic in the body of investment literature."
Reader from Stamford, Connecticut
Do not miss this modern investment classic!
Alternate Selection of the Book-of-the-Month Club and The Money Book Club
Consistently in the top 50 selling stock investment books at Amazon.com
Penguin Group/Plume (North American English)
Economy Daily Press (Chinese/simple)
MVG Verlag (German)
BB.art (Czech)
---
THE NEATEST LITTLE GUIDE TO PERSONAL FINANCE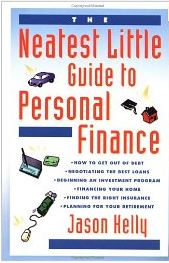 Jason Kelly's third book in the series provides guidance on how to figure your net worth, get out of debt, stop wasting your money, and plan an investment strategy for retirement. He includes lessons on how to borrow money wisely, choose an IRA, and manage student loans, while offering hints on selecting insurance plans, filing tax returns, and financing a home.
With his trademark flair for making the impossible understandable, Jason Kelly shows how sensible saving and spending can lead to peace of mind and a profitable future.
"I know Jason Kelly's stock book gets all the attention, but this little book about personal money and saving and stuff is really good too. I liked the stock book, but I'm so darned far in debt that I can't use it yet. So I've found this money book better for me. Maybe when I'm done paying off my debt I will be able to use his other books about investing. He's a good writer and funny too."
— Reader from Iberia, Louisiana
Penguin Group/Plume (North American English)
MVG (German)
---
THE NEATEST LITTLE GUIDE TO MAKING MONEY ONLINE
The Neatest Little Guide to Making Money Online shows in clear terms exactly how anybody can make money with a Web site that they design from their own home. Because a Web site runs 24 hours a day, this is one of the few sources of income that works while you sleep!
With advertising, affiliate product partnerships, and clever marketing techniques, Jason Kelly has assembled a formula that anybody can use to earn an extra $400 every month. This is the first Neatest Little Guide that switches focus from managing money to making more of it to manage.
Be sure to look for Making Money Online in January, 2000.
Penguin Group/Plume (North American English)
Nicholas Brealey Publishing (UK)
Robin Book (Spanish)
IBL (Hebrew)
MVG Verlag (German)
Millionaires Planet (Malaysian)
---
THE NEATEST LITTLE GUIDE TO DO-IT-YOURSELF INVESTING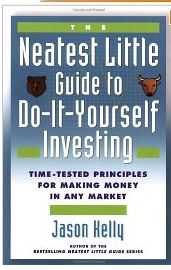 The latest title in Jason Kelly's hot-selling series,The Neatest Little Guide to Do-It-Yourself Investing: Time-Tested Principles for Making Money in Any Market will help readers to navigate the tricky world of investing without the help of a broker.
Penguin Group/Plume (North American English)
---
THE NEATEST LITTLE GUIDE TO STOCK MARKET INVESTING, 3RD EDITION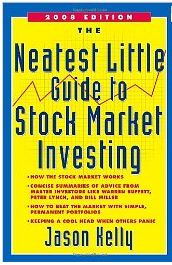 The latest edition of Kelly's classic introduces Maximum Midcap, hi all-new way to beat the Dow using a midcap index. This strategy rises more in good times, falls less in bad times, and makes more profit over the long run than any other approach shown in previous editions of the book.
Now includes a profile of legendary Legg Mason mutual fund manager Bill Miller. He beat the market for 15 years in a row. Find out how.
For the first time ever in print, a ten-year perspective on his original IBM Value Line example providing investors with a vital snapshot of how companies change over time. See what really matters!
New examples of real investments that worked, including my doubling down on Deckers Outdoor after it fell 26%, and then rose 200% in a little more than a year.
Once again, thoroughly updated resources including free online stock screeners and the newest online brokers.
All data refreshed, all contact info current, and all examples provided with historical perspective.
Penguin Group/Plume
Econ Publisher (Korean)
China Machine Press (Simplified Chinese/China)
Toyo Keizai (Japanese)
Finesa (Serbian)
---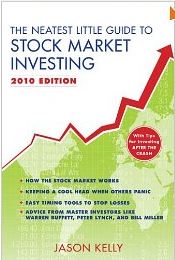 THE NEATEST LITTLE GUIDE TO STOCK MARKET INVESTING, 4TH EDITION
The latest edition of Kelly's classic analyzing the crash of 2008 and its aftereffects.
Once again, thoroughly updated resources including free online stock screeners and the newest online brokers.
All data refreshed, all contact info current, and all examples provided with historical perspective.
Penguin Group/Plume(North America)
---
Warner Burke and William Trahant with Richard Koonce
BUSINESS CLIMATE SHIFTS:
How to Make Your Company Thrive in an Environment of Constant Change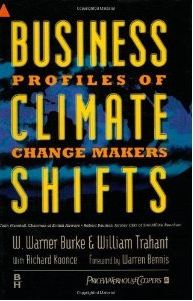 In order for companies to achieve success in today's competitive environment, they must master the art of continuous change.
Richard Koonce, accomplished author, consultant, and journalist, along with Warner Burke, Professor of Psychology and Organization Development at Teacher's College at Columbia University, and William Trahant, Senior Partner in charge of the Change Management Practice worldwide for newly-merged Price Waterhouse Coopers, direct companies on how best to focus their change efforts using case studies of "change capable" organizations.
By concentrating on how companies can reinvent themselves through successful change in appropriate managerial, operational or strategic levels, the book prepares companies to effectively cope with periods of business turbulence in a global climate that is constantly shifting.
Butterworth-Heinemann (World English)
Diamond, Inc. (Japanese)
Citic (Simplified Chinese/China)
---
Dick Smith and Jerry Blakeslee with Richard Koonce
STRATEGIC SIX SIGMA:
Best Practices from the Executive Suite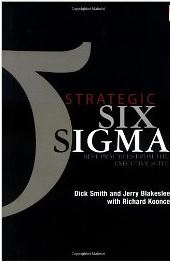 One of the biggest causes of business failures today is the inability of companies to effectively execute their strategies.  Partner-in-charge Dick Smith and global partner Jerry A. Blakeslee, Jr. of PriceWaterhouseCoopers Center of Excellence for Six Sigma Services, along with renowned author, consultant, and journalist Richard Koonce suggest that Six Sigma, a highly statistical quality improvement technique which was often used at an operational level, should also be implemented by companies at the strategic level to acquire a 'market-smart' attitude that will support their business goals.
Six Sigma has the potential to serve as a tool to help companies undertake far-reaching strategy formulation and bring about broad-gauge transformational change—to serve as a "high-order" leadership approach, philosophy and methodology.
In an era in which companies are increasingly affected by great competition and instability, the authors suggest an effective 7-step plan to benefit from Strategic Six Sigma for improving and protecting companies from the volatility of global economy.
John Wiley & Sons (World English)
Tsinghua University Press (Simplified Chinese/China)
---
Jaclyn Kostner
BIONIC E-TEAMWORK:
How to Build Collaborative Virtual Teams at Hyperspeed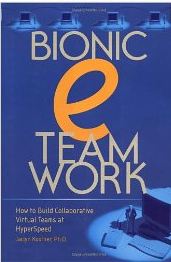 BIONIC E-TEAMWORK is the first book to capture the world's most successful virtual teams and explain how fast, cohesive virtual teams actually communicate by using the power of technology to extend human capability and touch.  It focuses on collaboration for teams whose members dot the globe and is therefore written with an international audience in mind.
Kostner has written other business books, which include Virtual Leadership (Warner), as well as Information Processing books with over half a million in sales.  Dr. Kostner has appeared as a major media expert in various publications, including The Wall Street Journal and Fast Company Magazine, as well as television and radio programs on CNN, CNBC and CBS.
Dearborn (World English)
---
FROM VALUES TO ACTION:
The Four Principles of Values-Based Leadership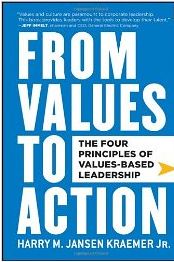 Respected former CEO, professor, and speaker examines what it takes to become a values-based leader
In this highly-anticipated book, Harry Kraemer argues that today's business environment demands values-based leaders who, in "doing the right thing," deliver outstanding and lasting results. The journey to becoming a values-based leader starts with self-reflection. He asks, "If you are not self-reflective, how can you know yourself? If you do not know yourself, how can you lead yourself? If you cannot lead yourself, how can you lead others?" Kraemer identifies self-reflection as the first of four principles that guide leaders to make choices that honor their values and candidly recounts how these principles helped him navigate some of the toughest challenges he faced in his career.
Offers a framework for adopting the principles of values-based leadership?self-reflection, balance, true self-confidence, and genuine humility?to lead organizations effectively
Based on Kraemer's popular Kellogg MBA course on values-based leadership
A recognized expert in values-based leadership, Kraemer is a sought after speaker on the subject
Lively and engaging, Kraemer's book comes at a critical time when true leadership in every facet of society is desperately needed.
Jossey-Bass (World English)
Huong Thuy Culture (Vietnam)
---
HEALING DEPRESSION THE MIND-BODY WAY:
Creating Happiness with Meditation, Yoga, and Ayurveda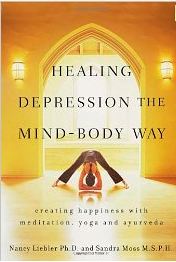 Liebler and Moss provide a regimen of physical and spiritual nourishment, yoga and physiological based movements, and techniques for deep rest, ultimately undoing the factors in one's body and mind that lead to depression.
At the heart of their Ayurveda approach is the idea that the mind is inextricably connected to the body – whatever the body encounters affects the well-being of the mind. Studies have shown the recurrence of depression and depression symptoms is between 50%-70% in patients that have already been prescribed medication and talk therapy. Clearly, current medicinal treatments are not working. They do not work because they do not approach the body as an extension of the mind.
Nancy Liebler is a psychotherapist and professor at the Michigan School of Professional Psychology, and has been on the board of and chaired national committees and conferences regarding the Committee for Stress Free Schools, Children at Risk, and the David Lynch Foundation, among others. Liebler studied Ayurveda through working at Oakwood Hospital's Center for Alternative and Complementary Medicine in Westland, Michigan. After leaving Oakwood, she served on the board of the Center for Enlightened Medicine in Ann Arbor, Michigan.
Sandra Moss received her training in Ayurveda from the Center for Enlightened Medicine in Ann Arbor, Michigan. She apprenticed with Dr. Paul Dugliss, an Internist and Ayurvedic Physician. She also studied at the Aloha Institute of Ayurvedic Medicine in Kauai, Hawaii. There she obtained advanced training in Panchakarma, a sub-specialty of Ayurveda, from the renowned Ayurvedic physician, Dr. Suhas Kshirsagar. Currently, Moss is a medical education consultant for alternative health practitioners throughout the United States. She is also the Director of Curriculum Planning & Accreditation for the New Leaf Ayurvedic Institute in Southfield, Michigan.
John Wiley & Sons (World English)
---
Stuart Lucas
WEALTH:
Grow It, Protect It, Share It, and Pass It On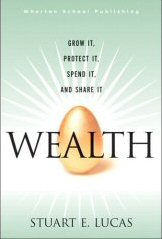 Many people who have wealth or who see wealth in their future worry about protecting it and making it available to their children in the years to come. WEALTH will help them take the proactive role in their wealth management and build stronger more productive relationships with their financial advisors.
Stuart Lucas has immense wealth management experience from both sides of the table, as a high-profile wealth management consumer and advisor. To best illustrate his hard-earned advice, the author uses stories from his own, his clients' and his family's experiences. WEALTH allows the reader a glimpse into a multi-generation, private family of self-made wealth due in large part to all-American household brands such as Carnation, Friskies and Coffee-Mate. Between Stuart Lucas' multi-perspective platform and captivating, original tales, this is a unique and valuable book.
Prentice Hall (World English and Audio)
China Renmen (Simplified Chinese/China)
Alpina (Russian)
Bresca (World Spanish)
Ledo (Turkish)
---
MAKE A DIFFERENCE:
How One Man Helped to Solve America's Poverty Problem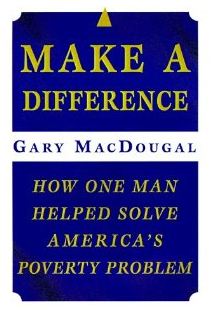 Gary MacDougal is Senior Advisor to the Governor for Human Resources Reform for the Sate of Illinois. For four years he chaired the Governor's Task Force on Human Services Reform, which developed and implemented a major reform and reorganization of the $10 billion human services system.
In 1988, Gary served as Senior Advisor to the Bush Presidential Campaign, and in 1989, President Bush appointed him a Public Delegate and Alternate Representative of the United States to the United Nation General Assembly in New York. He was also appointed by George Bush to the United States Commission on the Effectiveness of the United Nations. Having acted as CEO and Director of several NYSE corporations and venture capital funds, and after his tenure as a Partner at McKinsey, Gary realized the importance of giving back to the community, and is currently a Trustee of the Casey Foundation, with assets of over $1 billion established to assist children at risk. He has contributed articles to The Wall Street Journaland the Chicago Tribune, among other publications.
Make a Difference is a pivotal project on both the political and social levels, and demonstrates how the straight forward, bi-partisan principles Gary has been instrumental in implementing in Illinois can be developed and realized in the remaining states to dramatically improve the chances of those on welfare of becoming self-sufficient.
Anecdotal and easily comprehensible, Make a Difference will be one of the most notable contributions to social reform.
St. Martin's Press/ Truman Talley Books (North American English)
---
Vickie Nam
YELL-OH GIRLS!
Emerging Voices Explore Culture, Identity, and Growing Up Asian American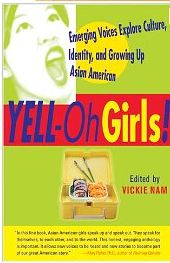 If there is a place where self help meets pop culture, then it is here — YELL-OH GIRLS! is a collection of stories, essays, and poems by young Asian American women between the ages of 13 and 21.  It offers the uncut, untempered voices of a burgeoning demographic that has gone unrecognized until now.  While there is no single, prescribed way of growing up Asian American and female, there are common threads of shared experiences.  YELL-OH GIRLS! explores and celebrates those ties of culture, community, and coming of age in the 21st century.
Vickie Nam worked at Teen People and at AsianAvenue, an online Asian American community with over 50 million page views per month.  She is now the Content / Community Manager at Voxxy.com, the new interactive network for teenage girls.  She is 24 years old.
HarperCollins (retained all translation rights)
---
POWER ENTERTAINING: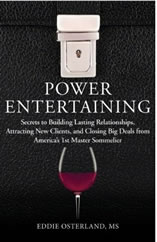 Secrets to Building Lasting Relationships, Hosting Unforgettable Events, and Closing Big Deals from America's 1st Master Sommelier
Master the art of entertaining and cement lasting business relationships in the process.You're at a fancy downtown restaurant for dinner with a million-dollar businessdeal on the table. The waiter hands you the wine list. Now what? So much for that shiny M.B.A. and your powerful business connections. What matters right now, at this moment, is your wine IQ—and your ability to entertain this client in a way he'll never forget.
In Power Entertaining Eddie Osterland, Master Sommelier, and America's foremost wine and food coach outlines dozens of power entertaining tips that can make anyone a more effective host or hostess—be it at a corporate business event or private dinners with clients in restaurants.When it comes to hosting big business meetings or important sales events, you will discover how to entertain business clients and business associates with ease, knowledge, and confidence, using good wine and food as the ingredients to build strong and lasting business relationships.
Teaches how to transform boring business meetings and sales functions into memorable social events that people will want to attend again and again
Enables you to build long-term business relationships based on the time-honored principles of courtesy, generosity and old world hospitality
Learn how to convince the restaurant's Maitre d' to give them the best table in the house—even on a busy Friday or Saturday night
Success is always in the details, so master the finer points of entertaining before your next big business event.
John Wiley and Sons (World English)
China Citic Press (Complex Chinese/China)
TTV Cultural Enterprise (Simplified Chinese/Taiwan)
---
HOW NASA BUILDS TEAMS:
Mission Critical Soft Skills for Scientists, Engineers, and Project Teams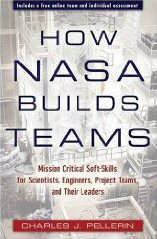 Every successful organization needs high-performance teams to compete and succeed. Yet, technical people are often resistant to traditional "touchy-feely" teambuilding.
To improve communication, performance, and morale among NASA's technical teams, former NASA Astrophysicist Dr. Charlie Pellerin developed the teambuilding process described in "How NASA Builds Teams"—an approach that is proven, quantitative, and requires only a fraction of the time and resources of traditional training methods. This "4-D" process has boosted team performance in hundreds of NASA project teams, engineering teams, and management teams, including the people responsible for NASA's most complex systems– the Space Shuttle, space telescopes, robots on Mars, and the mission back to the moon. How NASA Builds Teams explains how the 4-D teambuilding process can be applied in any organization, and includes a fast, free on-line behavioral assessment to help your team and the individual members understand each other and measure the key driver of team performance, the social context.
Moreover, these simple, logical processes appeal strongly to technical teams who eschew "touchy-feely" training. Pellerin applies simple, elegant principles from his physics background to the art teambuilding, such as the use of a coordinate system to analyze the characteristics of team performance into actionable elements.
The author illustrates the teambuilding process with entertaining stories from his decade as NASA's Director for Astrophysics and subsequent 15 years of working closely with NASA and outside business teams. For example, he tells how the processes in the book enabled him to initiate the space mission to fix the Hubble Space Telescope's flawed mirror.
Free downloadable resources will help you:
· Identify your teammates' innate personalities;
· Diagram your culture (And compare it to your customer's);
· Measure the coherency of your project's paradigm (Get this wrong and you will be fired!) and,
· Learn to meet people's need to feel valued by you.
Further, you can download and use Pellerin's most powerful tool for influencing the outcome of any difficult situation: the Context Shifting Worksheet .
Charles J. Pellerin (Boulder, CO) holds a PhD in astrophysics and is the former director of NASA's Astrophysics division, where he oversaw an annual budget of $750 million per year, launched a dozen satellites, and led the team that repaired the Hubble Space Telescope. He is also Professor of Leadership in the Business School at the University of Colorado in Boulder.
John Wiley and Sons (World English)
Infodar (Bulgarian)
Korea Price (Korean)
China Times (Complex Chinese/Taiwan)
Achievement Publishing (Japanese)
CICAP (Simplified Chinese/China)
Korea Price (Korean)
ERFOLG (Russian)
---
PINK THINK:
Becoming a Woman in Many Uneasy Lessons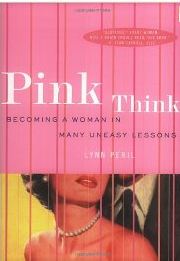 From the moment she's wrapped in a pink blanket, long past the traumatic birthday when she realizes that her age is greater than her bust measurement, the human female is bombarded with advice on how to be a woman. This is not to say that women have ever followed these prescriptions, least of all Lynn Peril who, for example, formed an early aversion to all things pink and girly and found herself being hurtled down the roller-coaster track of Femininity – seemingly out of control and screaming at the top of her lungs.
The artifacts of Pink Think come in many forms, from mid-century home economics textbooks to other guides offering advice to girls and women about etiquette, sex and dating, or charm, beauty, and personality. Even the box of a sanitary belt can tell the tale of Pink Think.
A pop culture history peppered with personal anecdotes, Pink Think presents the material in an amusing fashion that nevertheless causes reader to think as they laugh.
Lynn Peril is the founder and editor of the zine,Mystery Date, which has sold over 10,000 copies throughout the world, and is even used as a text in the University of North Carolina at Chapel Hill's Department of Sociology. Lynn's column, "The Museum of Femorabilia" appears in Bust magazine, which has a circulation of over 20,000, and her essays have appeared in The Guardian, The San Francisco Bay Guardian, The Book of Zines (Henry Holt '97), andThriftSCORE (HarperCollins '97).
W. W. Norton(World English)
---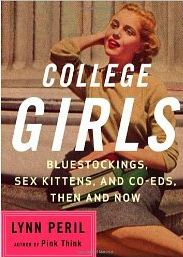 COLLEGE GIRLS: An Informal History of Bluestockings, Sex Kittens and Sweet Girl Graduates
When the dust settled in favor of the affirmative on the centuries-old argument of whether or not women should be educated, a new American archetype was born: the college girl.  From the '40s through the '70s, college girls were often perceived in one of two ways, a bluestocking who studied far too hard and was a drag to date, or as a lusty co-ed, a sex kitten.  COLLEGE GIRLS is a smart and funny look at the college girl as a 20th century icon.
W. W. Norton (World English)
---
Jim Reisler
IGNITING THE FLAMES:
America's First Olympic Team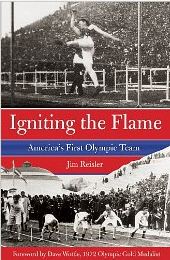 The first U.S. Olympic team—a ragtag group of 14 men, mostly Ivy Leaguers—caused a swell of national pride while taking home 11 gold medals and paving the way for generations of U.S. Olympians. Author Jim Reisler chronicles the growing American sports scene in the 19th Century, the men of influence who established a modern Olympics, and how a squad of moderately talented Americans, funded independently, competing without the backing of the Amateur Athletic Union or their universities, went off to Athens, anyway. By triumphing in their events, they won not only gold—but also the hearts and minds of the world.
Theirs was a strange journey to Greece—high jump training on a rolling transatlantic ship, nearly missed connections, practice runs among throngs of native children. But on the first day of Games, something unexpected happened. Boston's James Connolly won the triple jump (becoming the first Olympic champion in more than 1,500 years); Princeton's Robert Garrett took gold in the discus, an event he had never tried before; all three American sprinters won their 100-meter heats. As American triumphs mounted, so did headlines, legitimizing the Games back home. But as fast as their star rose, somehow their story has been largely forgotten. Even more forgotten is the team's champion, William Mulligan Sloane, a Princeton professor of classics whose crucial role in establishing the modern Olympics has never before been adequately explored.
Globe Pequot Press (World English)
---
PUSHBACK: How Smart Women Ask–and Stand Up–for What They Want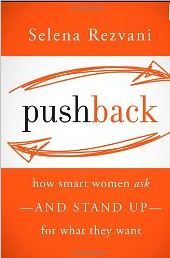 Popular leadership blogger gives the low-down on standing up for yourself
In Pushback, top leadership consultant Selena Rezvani argues that self-advocacy is critical to success. Yet women initiate negotiations four times less often than men, resulting in getting less of what they want—promotion opportunities, plum assignments, and higher pay. This book shines a light on the real rules of holding your own and pushing back for what is rightfully yours. Drawing on interviews with high-level leaders, Rezvani offers readers in the first half of their career the unedited truth about how women have asked their way to the top and triumphed—and how you can too.
Includes interviews with top business leaders such as Marie Chandoha, CEO of Charles Schwab Investment Management; Cindi Bigelow, President of Bigelow Tea Company; Fizzah Jafri, COO at Morgan Stanley; Rosemary Turner, President at UPS; and Irene Chang Britt, Chief Strategy Officer at Campbell's Soup
Offers a reliable and methodic approach to negotiating and navigating tough conversations
Highlights compelling facts and research from the world of psychology and leadership
Insightful and accessible, Pushback is a timely resource for savvy women who want to leverage their skills, promote themselves effectively, and fast track their careers.
Jossey-Bass (World English)
---
Joe Robinson
WORK TO LIVE:
The Guide to Getting a Life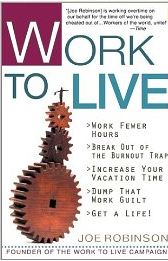 There is no arguing that most people are in need of a vacation.  At some point in recent history, the work ethic changed into an overwork ethic, and our grasp on the importance of Life has begun to slip away.  We have long prided ourselves on our productivity, working long hours and sacrificing our deserved and much needed vacation days in that pursuit, and now we find ourselves craving help on how to cope with hours run amok, desperate for a way out of the burnout trap.
WORK TO LIVE is practical information that gives readers the realistic tools to relieve burnout and create a balanced life.
Joe Robinson of the Editor in Chief of Escape, an adventure travel magazine with over 70,000 readers, and in the past six months has appeared on The Today Show, NBC Nightly News, National Public Radio, and in Time magazine,The Financial Times, The Chicago Tribuneand many more media outlets for his views on our changing workplace.  He is the author of YOU'RE THE BOSS (St. Martin's Press, 1987) and his articles have appeared in Utne Reader, London's Time Out and several other publications.
"Joe Robinson…[t]he Santa Monica-based founder of the Work to Live campaign…has written a new book on the subject called Work to Live (Perigee), which encourages readers to 'Get a life'…and has presented his petition to Senator Kennedy, demanding three weeks of paid leave after one year on the job, four weeks after three years."
–Sarah Brown, Vogue, June 2003
Penguin Group (North American English)
Commonwealth Magazine Co., Ltd. (Complex Chinese/Taiwan)
CITIC Publishing House (Simplified Chinese/China)
---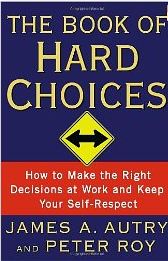 THE BOOK OF HARD CHOICES:
How to Make the Right Decisions at Work and Keep Your Self-Respect
Peter Roy is one of the founders of the natural food market. He was the founding president of the industry trade association Natural Food Network and is the former president of Whole Foods Market. James Autry is an established author and coauthor of books such as THE SERVANT LEADER and REAL POWER: Business Lessons from the Tao Te Ching (with expert Stephen Mitchell).
These two powerhouses teamed up to write a new approach to the subject of integrity. THE BOOK OF HARD CHOICES covers integrity in an easy-to-read manner, demonstrating through practical examples the positive and negative consequences of difficult business decisions that leave your integrity on the line.
Random House (North American English))
Elsevier (Portuguese/Brazil)
Smartbook (Portuguese/Portugal)
---
James Salzman
DRINKING WATER: A History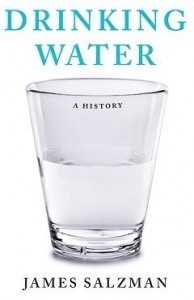 When we turn on the tap or twist open a tall, cold plastic bottle, we might not give a second thought to where our drinking water comes from. But how it gets from the ground to the glass is far more complex than we might think. With concerns over pollution and new technologies like fracking, is it safe to drink tap water? Should we feel guilty buying bottled water? Is the water we drink vulnerable to terrorist attacks? With springs running dry and reservoirs emptying, where is our water going to come from in the future?
In Drinking Water, Duke University professor and environmental policy expert James Salzman shows how drinking water highlights the most pressing issues of our time–from globalization and social justice to terrorism and climate change–and how humans have been wrestling with these problems for centuries. From the aqueducts of Rome to the revolutionary sewer system in nineteenth-century London to today's state-of-the-art desalination plants, safety and scarcity of water have always been one of society's most important functions.
Overlook Press (World English)
Sigongsa (Korean)
East Press (Japanese)
---
SALES AUTOPSY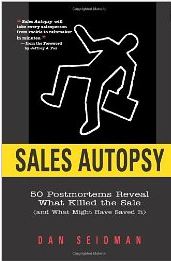 In his hilarious new book Sales Autopsy, top sales coach Dan Seidman reveals stories of sales gone horribly, embarrassingly wrong, and what if anything can be learned  from them.
In 1999, Seidman launched SalesAutopsy.com and salespeople everywhere rejoiced in the knowledge that they weren't the only ones who had suffered the indignities of rambling voicemails left for prospects, small talk that inadvertently caused big problems, and pitches that crashed and burned in front of prospects.
Now, Seidman has gathered the best sales horror stories from around the world. These are the stories that make you wince, laugh, sympathize, and say a quick "Thank God that didn't happen to me!" But Sales Autopsy will do more than just entertain you "it will leave you with actionable strategies you can use to either turn the situation around if you're stuck in the middle of a sales nightmare or remind you of what not to do next time.
Kaplan (World English)
Sextante (Portuguese/Brazil)
RCS (Italian)
Neden Kitap (Turkish)
---
FOR THE LOVE OF CHILDREN
In this priceless treasure trove of quotes, quips, and practical advice, award-winning writer and speaker Eva Shaw celebrates kids and parenthood–from toothless grins and sticky kisses to closet monsters and playground bullies.
Health Communication, Inc. (World English)
---
Jeffrey C. Shuman and Janice M. Twombly with David Rottenberg
COLLABORATIVE COMMUNITIES:
Partnering for Profit in the Networked Economy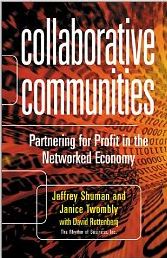 The business world is going through some very tumultuous times with brick and mortar businesses are becoming e-businesses, companies going global and taking advantage of the Internet, and moving forward at such an incredible speed that they don't even seem to realize that they have yet to make a profit!  In their new book, Jeff Shuman and Janice Twombly explain how e-businesses can generate profits while taking full advantage of the Internet and its many possibilities.
Jeffrey Shuman is widely recognized as a leading expert in entrepreneurship.  He is the founder of the company, The Rhythm of Business, as well as four other companies in technology, manufacturing, and distribution.  Jeff is a winner of Ernst & Young's 1999 New England Entrepreneur of the Year Award and a judge for the year 2000 award.  He has been nationally recognized by The Ewing Marion Foundation and The Coleman Foundation.
Janice Twombly co-founded The Rhythm of Business with Jeff Shuman and had been a partner in a large regional CPA firm. In 1998 Jan was named the Small Business Administration's Accountant Advocate of the Year for New England.
Dearborn (World English)
China Machine Press (Simplified Chinese/China)
IBL (Hebrew)
Eds International Culture (Complex Chinese/Taiwan)
---
Jeffrey Shuman and Janice Twombly with David Rottenberg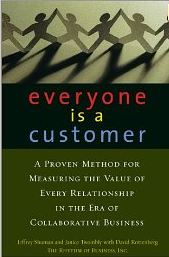 EVERYONE IS A CUSTOMER:
A Proven Method for Measuring the Value of Every Relationship in the Era of Collaborative Business
Purposeful collaboration is the key to success in the world of business. Building and maintaining a successful business and the ability to profitably satisfy customers' needs depends on the development of long-term relationships with the trust needed to achieve strategic and financial benefit. Such relationships require a customer-centric perspective in which each entity of the business relationship has needs to be fulfilled. This book explains how businesses can save resources and improve company performance by recognizing opportunities to create value through meaningful and intensive interaction within a collaborative community.
Dearborn (World English)
IBL (Hebrew)
---
Jeffrey C. Shuman
THE RHYTHM OF BUSINESS:
The Key to Building and Running Successful Companies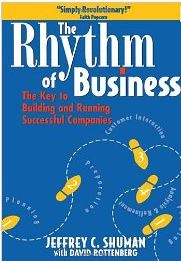 The reality of business is that most companies do not succeed with the idea with which they began. All businesses change as they grow, and change creates rhythm.
In this book, Jeff Shuman not only explains the rhythm of business, but describes in a simple and highly readable fashion the natural development process that all businesses go through in order to succeed. This book is a must read for anyone who owns, or has thought about owning, their own business.
"Simply revolutionary! The Rhythm of Business is one of the rare business books that understands the soul of a revolutionary idea."
— Faith Popcorn
author, Clicking and The Popcorn Report
"This is far and away the best description of the business building process I have ever seen. Jeff Shuman has captured the underlying principle for achieving business success."
— Timothy A. DeNello
founder and CEO, Streamline, Inc. 
Butterworth-Heinemann (North American English)
EDS International Culture Enterprise (Complex Chinese/Taiwan)
---
SAFETY NET:
Protecting Your Business on the Internet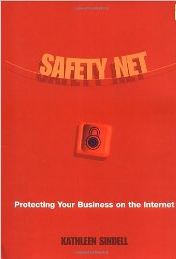 SAFETY NET will help managers of internet security protect their business from the many vulnerabilities that the internet exposes them to.  It will explain how to prevent, detect, and counteract these vulnerabilities while it also explains how to create an effective security policy.
Dr. Kathleen Sindell is the author of Loyalty Marketing for the Internet Age (Dearborn, 2000), The Unofficial Guide to Buying a Home Online (IDG, 2000), the Encyclopedia of Computer Science (Macmillan), and Investing Online for Dummies (IDG Worldwide), which has been ranked by Amazon.com as their #1 bestselling online reference book, and by Barnes & Noble as their #1 bestselling personal finance/money management book.
John Wiley & Sons (World English )
---
LOYALTY MARKETING FOR THE INTERNET AGE:
How to Identify, Attract, Serve, and Retain Customers in an E-Commerce Environment
LOYALTY MARKETING FOR THE INTERNET AGE unveils the secrets of anticipating customer needs, satisfying customer wants, and building customer loyalty.  It provides both small and large business leaders with an understanding of how to leverage the Internet to develop, nurture, and manage multiple relationships with their customers.
Dearborn Press (retained all translation rights)
---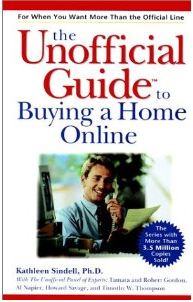 THE UNOFFICIAL GUIDE TO BUYING A HOME ONLINE
This comprehensive guide walks readers through what is becoming more and more the norm when purchasing a house: buying it online. With people moving more frequently and buying houses at younger ages, Kathleen Sindell's advice is clear and concise and offers readers a step-by-step plan.
Kathleen Sindell is an expert in electronic commerce.
MacMillan/IDG (retained all translation rights)
---
Jack Stahl
LESSONS ON LEADERSHIP:
The 7 Fundamental Management Skills for Leaders at All Levels
Jack Stahl became a top executive of two world-famous corporations before the age of 50. Now, Stahl offers the down-to-earth approach to business leadership that fueled his meteoric rise through the corporate ranks. His practical solutions empower leaders to manage the critical issues they encounter every day and develop skills for a business lifetime.
Stahl organizes his leadership guidelines into seven categories, what he calls his "Frameworks for Success": Leadership and Management, Creating a High-Capability Organization, Developing People, Brand Positioning with Consumers, Customer Relationship Management, Financial Strategy, and Influencing People.
Written in Stahl's accessible and conversational style, Lessons on Leadership speaks directly to the heart of business leaders bent on improvement and to the mind of the practical executive on the lookout for powerful perspectives.
Kaplan Publishing (retained all translation rights)
---
POSITIVE RISK:
How Smart Women Use Passion to Break Through Their Fears
Originally self-published, POSITIVE RISK includes four simple strategies for taking the right risks in the smartest way possible, addressing women's personal & professional mountains. Barbara Stoker's innovative approach to taking calculated risks include four mountain climbing related steps:
Choose your mountain.
Plan your route.
Build your courage.
Climb strong!
This simple approach makes taking risks and achieving personal and professional goals more attainable than they have ever been. This applies to a vast array of women, whether searching for that first job, that next promotion, switching careers, attempting to land a big client, or taking the next step into retirement, among a vast array of other risks women take on a daily basis.
Jossey Bass (retained all translation rights)
---
A WOMAN WITH A MINUTE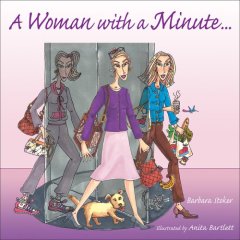 Through word of mouth, A WOMEN WITH A MINUTE appeared on the Colorado bestseller list nine times shortly after being self-published. This project has already created waves and exceeded expectations as demonstrated by this field testing. Women often buy multiple copies when they see it. Over the holidays, friends of Ellen Degeneres, Oprah and Katie Couric gave these celebrities autographed copies. Just recently, Barbara Stoker received a call from The Today Show. The message of the book is strong and prevails amid—or because of—the chic and fun wedding of illustrations and story line.
Barbara Stoker is the perfect face behind this dynamic book. She is an impassioned speaker, her hard work and perseverance to be admired. She is a former executive for Hallmark, Disney, Mattel and Coors. Barbara Stoker is a rock and ice climber and a paragliding pilot, not to mention a wish granter for the Make-A-Wish Foundation. And as a single mother of three teenaged boys, she knows what it's like to have a never-ending to-do list.
Andrews McMeel (retained all translation rights)
---
THE WHY ARE YOU HERE CAFE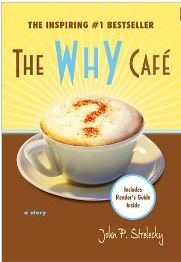 This self-published title has sold over 10,000 copies propelled by word of mouth alone. Having been sold to Perseus, it is now set to be marketed as a lead title in spring 2006.
THE WHY ARE YOU HERE CAFE takes the reader on a journey from gridlock to a small café in the middle of nowhere. John finds himself facing a platter of food and three questions on a menu. Why are you here? Do you fear death? Are you fulfilled? With the menu for reading material and the guidance of Casey, Mike, and Anne, John leads the reader on the path to discovering one's Purpose For Existence and how to lead a life fulfilling that purpose.
Through his book, articles, speeches, and appearances on television and radio, John Strelecky has positively impacted the lives of millions of people. John's organization, the Why Café Institute, offers workshops and seminars dedicated to helping people "Create and Live their Perfect Lives." John presents nationally and has consulted with Fortune 500 companies such as Walt Disney, Audi, Sears Roebuck and more. During a nine month period in 2002, John and his wife used a combination of horse, boat, bicycle, elephant, and numerous other modes of transport, including their own two feet, to travel over 70,000 miles (almost three times the circumference of the earth) as they backpacked around the world. Experiences from that journey are a standard part of his entertaining presentations, and woven into this parable.
Da Capo Press  – an imprint of Perseus (North American English)
Campus (Portuguese/Brazil)
Infodar (Bulgarian)
Dauphin Blanc (French)
Shanghai Century (Simplified Chinese/China)
Beijing Mediatime (Simplified Chinese/China)
Beta-Dobrovsky (Czech)
DTV (German)
Eleni Saraidou (Greek)
Aryeh Nir (Hebrew)
Amrita (Italian)
TAKE SHOBO (Japanese)
Woongjin (Korean)
Gimm Young (Korean)
Ankh-Hermes (Dutch)
Vocatio Publishing (Polish)
Sinais de Fogo (Portuguese/Portugal)
Leda (Romanian)
RBA (Spanish/Spain, Latin America, USA)
China Times (Complex Chinese/Taiwan)
Dekolte (Turkish)
Piatkus (UK)
---
THE BIG FIVE FOR LIFE:
Leadership's Greatest Secret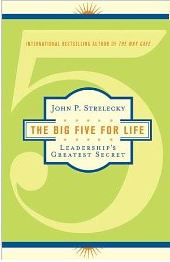 No matter who you are or how many people you've led, this book will forever enhance the way you think about leadership. Not only the way you lead at work, at home, or in your community, but even how you lead yourself.
It is the final legacy of Thomas Derale, a man viewed by those around him as the greatest leader in the world. His businesses made fortunes, his employees loved him, and when necessary, his customers would wait weeks just to interact with his companies.
He died tragically at just fifty-five years of age, and even in that—the act of dying—he inspired everyone around him. This is a story about who he was, how he led, and the way he left this world.
These are the secrets he used to build fourteen highly profitable companies, create cultures so purposeful that customers and the most talented people sought him out, and leave a legacy that will be remembered for generations.
The pioneering business principles in this book, such as the Big Five for Life, are his final gift for current and future leaders everywhere. They have already helped thousands of people and organizations around the world.For more resources and ideas log on to www.bigfiveforlife.com.
St. Martin's Press (North American English)
Sextante (Portuguese/Brazil)
Dauphin Blanc (French/Canada)
Beijing Mediatime (Simplified Chinese/China)
DTV (German)
Kodansha (Japanese)
Chungrim Publishing (Korean)
Ankh-Hermes (Dutch )
China Times (Complex Chinese/Taiwan)
Piatkus (UK)
---
LIFE SAFARI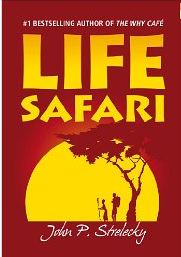 Jack is a young man struggling to find happiness in his life. Although he doesn't know why, the one image that seems to capture his soul is that of Africa. With solitary focus, he saves for two years and then embarks on a journey to find the source of the calling he has felt.
Halfway around the world, a very old, very wise African woman named Ma Ma Gombe is on a journey of her own. She is seeking a fabled destination she was told of as a child-"a place where you can see the earth be born, and then watch the world go to sleep, a place so beautiful that words cannot describe it." It is a destination known to her only as "the birthplace of all."
As if their paths were destined to intertwine, these two unlikely travelers meet shortly after Jack's arrival in Africa and join together on a journey that changes both of their lives forever.
Walk with them as they cross the African continent on foot. Marvel with them at the animals they encounter, the people they meet, and the adventures they experience. Like Jack, find through the teachings of Ma Ma Gombe that piece of your soul yearning to be set free.
In Life Safari John P. Strelecky has created a story that inspires and taps the spirit for adventure in readers everywhere. A tale that will touch your emotions, open your eyes to the amazing continent of Africa, and open your heart to the amazing potential within all of us.
Aspen Light Publishing (North American English)
DTV (German)
China Times (Complex Chinese/Taiwan)
Ankh-Hermes (Dutch)
Dauphin Blanc (French/Canada)
Pocket Audio (French Audio/Canada)
ThinKingdom Media (Simplified Chinese/China)
---
HOW TO BE RICH AND HAPPY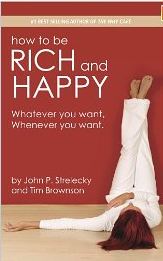 "What is the actual value of being able to do whatever I want, whenever I want?"
Not just this moment, or for a single day, but every day for the rest of my life? What is that really, really worth to me?
What the authors have discovered, is that is what being Rich and Happy means- living an existence where you have the freedom to do whatever you want, whenever you want.
Aspen Light Publishing (North American English)
Edition Dauphin Blanc (French/Canada)
DTV (German)
Ank-Hermes (Dutch)
China Times (Complex Chinese/Taiwan)
Bejing Mediatime Books Co. Ltd (Simplified Chinese/China)
---
SILENT SORORITY: A Barren Woman Gets Busy, Angry, Lost and Found
From celebrity and news magazines to TV programs to Facebook pages and mommy blogs, family-building successes are routinely and glowingly shared and celebrated. But where are the voices of those who are unable to have children? In relating what happens when nature and science find their limits, the award-winning memoirSilent Sorority examines a seldom acknowledged outcome and raises provocative, often uncomfortable questions usually reserved for late night reflection or anonymous blogging. Outside of the physical reckoning there lies the challenge of moving forward in a society that doesn't know how to handle the awkwardness of infertility.
With no Emily Post-like guidelines for supporting couples who can't conceive, most well-intentioned "fertile" people miss the mark. Silent Sorority provides an unflinching and insightful look at adjusting to a new path, and offers a steady voice rarely heard in the noisy era of designer babies and helicopter parents.
Silent Sorority received the 2010 RESOLVE Award for Best Book. It's also included as a recommended resource in the 2011 edition ofOur Bodies, Ourselves.
Book Surge (North American English)
---
THE AGE ADVANTAGE:
Making the Most of Your Midlife Career Transition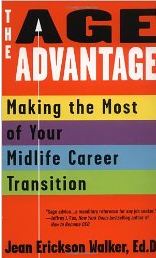 Since the earlier part of this decade, downsizing, right sizing, layoffs, terminations, acquisitions, and mergers have completely altered the infrastructure of corporate America. In these business transitions, mid-age Americans have been hit the hardest. Today's baby-boomers and their older brothers and sisters are out on their own, long before they are physically, mentally, or financially ready to retire.
Jean Erickson Walker, Ed.D, is a Career Counselor, Management Consultant, and Public Speaker who has worked with thousands of people in career transition, the majority of whom are mid-age. She has just been accepted as a Career Management Fellow by the International Board for Career Management Certification, sponsored by the International Association of Career Management Professionals and the Association of Career Management Consulting Firms International. This is a significant achievement in the field — Jean is the only certified person in the state of Oregon. The Fellow designation requires not only academic background, 15 years in business, and 10 years in the career management field, but also requires having published articles nationally, being a speaker at national and international conferences, and demonstrating industry leadership.
Jean Walker provides advice for what mid-age career transitioners need to become current in today's marketplace. This is a practical, hands-on book with attitude, and it provokes thoughtful consideration of the issues involved in mid-life career transition; it provides the resource to take charge of life; it inspires and motivates readers to challenge their own expectations and stretch their limits; and it teaches specific strategies and techniques for getting a job when the competition is stiff and you are no longer thirty-five.
Penguin Group/Berkeley (North American English)
---
SELLING YOUR SCREENPLAY was first published by Crown in 1988 and was in print for ten years.  The rights have since reverted back to Ms. Whitcomb and the rights to publish the updated version has been sold to Kalmbach Books.
The original book explained the ins and outs of Hollywood from agents to lawyers and directors to producers.  Ms. Whitcomb explains everything the screenplay writer needs to know about selling screenplays.
The new version has updates in the sections such as "What Hollywood is Looking For" and "Resources" and incorporates the additional knowledge attained by Ms. Whitcomb, who has spent twelve more years working in the industry since the first version of SELLING YOUR SCREENPLAY was published.
A veteran in the industry, Cynthia Whitcomb has won or been nominated for the Emmy Award (twice), the Writers Guild of America Award (twice), the Edgar Allen Poe Award, the Cable Ace Award, the Samuel Goldwyn Writing Award, and the Humanitas Award (three times).  She has sold over 50 full-length scripts such as "Tidings" which is currently in development and will air on CBS and "Selma, Lord, Selma" which aired on ABC in January of 1999.  She has had 25 movies produced including "Buffalo Girls" starring Anjelica Huston, Melanie Griffith, and Jack Palance.  She spent seven years as a teacher of Screenwriting at UCLA Film School and has seen her students sell such notable screenplays as Face/Off and The Mask.  She also writes the "Scripts" column for Writers Digest magazine.
Kalmbach Books (North American English)
---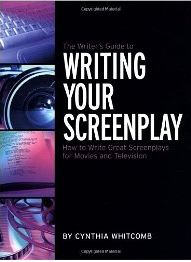 WRITING YOUR SCREENPLAY
WRITING YOUR SCREENPLAY gives an aspiring screenwriter the steps to take to successfully write a screenplay from the initial idea to the finished script.  It explains how to create a structure, how to make the screenplay come to life, how to resolve problems that inevitably arise during the creative process, and how to clean up the first, second, and third drafts so that the writer emerges with a completely polished script.
Kalmbach Books (North American English)
Delos Books (Italian)
---
SHACKING UP:
The Smart Girl's Guide to Living in Sin Without Getting Burned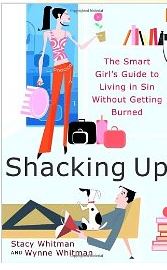 More and more Americans are choosing to live together before tying the knot — but unfortunately, much research suggests that this approach to relationships often backfires.  So while she's wondering where to hang his late 20th century garage sale monsterpiece, and he's shying away from the box of tampons under the sink, SHACKING UP can help couples maneuver gracefully as they join hearts and households.
Stacy Whitman writes for magazines including Glamour, Shape, Cosmopolitan, and Parenting.  Her sister, Wynne Whitman, is a lawyer and MBA, giving her expertise in both the legal and the financial aspects to moving in with a significant other.
Broadway Books (North American English)
Wisdom House (Korean)
---
SMART WOMEN PROTECT THEIR ASSETS:
Essential Information for Every Woman About Wills, Trusts, and More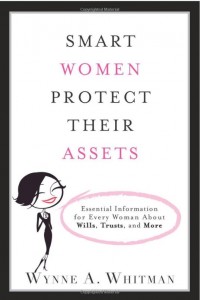 Too many women still haven't taken control of what will happen to their wealth and their assets. If you don't plan, the government will decide who'll act for you when you're sick…who'll manage your estate when you die…who'll get everything you've worked for. Everyone needs to plan, but women face unique issues that are often ignored in "typical" discussions of estate planning. Smart Women Protect Their Assets offers the specific guidance women need to safeguard their futures and control where their assets will go. Leading estate planner Wynne A. Whitman offers smart, up-to-date, and easy-to-use advice for the scenarios millions of women will face. You'll discover how to protect children of a previous marriage…give gifts the right way…do the easy planning that may save you nearly a million dollars…get the Living Will and Power of Attorney you simply must have…and a whole lot more. Written by a woman for women, this is a quick, focused, engaging, and practical book packed with simple checklists and "what-to-do-next" advice: information every woman can act on, right now.
Are you risking everything?
What you could lose if you don't start planning now

How to choose the right estate planning instruments for your situation
Wills, trusts, and "fancier" options: Which are right for you and those you care about?

What if you get sick and can't act for yourself?
Make sure the right person is there to make the right decisions

How to provide peace of mind to your loved ones
Get organized and tell your loved ones exactly what you want

How to discuss life's toughest topics
Bringing it up with your husband, partner, or significant other
"Thanks to Wynne Whitman's great advice, I've learned everything I need to know to ensure my stellar Grey Goose collection goes to the right person. But more importantly, I now know what I need to do to protect my assets as well as Chuy's."
–Chelsea Handler, best-selling author of Are You There, Vodka? It's Me, Chelsea and My Horizontal Life; host of Chelsea Lately on E! Entertainment Television
"I've worked hard all my life to support my family and was wondering what the future held for them when a friend sent me this book. WHAT SHOULD I DO? Here are the answers. Very clear with tons of information, especially about wills and how to help the family in the future."
–Sally Jessy Raphael, Emmy Award-winning talk show host
"This book is a must read for smart women (and men). The author's humorous writing style gets you up to speed painlessly on estate planning essentials–so your children have guardians, so you avoid taxes, and so your money and other assets go to the right people. Don't have a will, trust, living will, or durable powers of attorney? Get them, immediately after reading this book."
–Greg Karp, syndicated personal finance journalist and author of Living Rich by Spending Smart
FT Press (retained all  translation rights)
---
WANTS, WISHES, AND WILLS:
Critical Medical and Legal Information Guiding Individuals in Sickness and in Health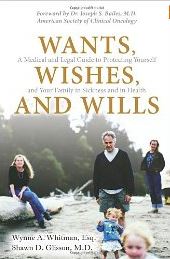 For many families, end of life decisions are approached with extreme hesitance and nervousness – for good reason. The future, by nature, is unpredictable, so how does one plan for the unknown?
How will continuing advances in medicine affect your plans?
How and why do you prepare a Living Will?
How do you decide which care regimen is right for you?
What alternative therapies are worthwhile?
How do you deal with your properties and possessions?
And how do you insure your wishes are fulfilled?
These are just some of the questions people face when thinking about the future. With up to date information, thorough analyses, and straightforward, non-legalese explanations, WISHES, WANTS, AND WILLS provides straight-forward, useful discussions allowing every reader to create individualized answers to their many questions. Glisson and Whitman fill the universal need for this kind of information.
A leading oncologist and hematologist, Glisson is well-versed in the current options available to patients with the most tragic prognoses. As a tax, trusts and estates attorney, Whitman offers expertise in the steps patients and families need to take to secure all possible legal matters and affairs. Both co-authors come with the experience of their given fields and of their previously published books.
Prentice Hall (World English)
---
WRITING TO HEAL THE SOUL:
Transforming Grief and Loss Through Writing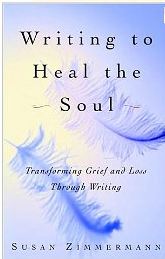 Susan Zimmermann experienced a devastating loss when her first child, Katherine, developed a neurological disorder that left her unable to walk or talk. Faced with her daughter's disability, Susan struggled with fear, denial, guilt, bitterness, and despair. She began to resurface and heal only through writing. The powerful process of working through conflicting emotions with paper and pen enabled her to transform her sadness into acceptance and even joy. Writing to Heal the Soul is her gift to others who are suffering any kind of grief or loss, whether the death, disability, or injury of a loved one, the loss of a job, or the end of a relationship. Lyrically illustrated with examples from life, the book offers simple yet inspiring writing exercises to help you focus and resolve your pain as you transform your loss into words of hope and healing.
Susan Zimmermann is the author of the memoir GRIEF DANCERS, a finalist for the Colorado Book Award, and co-author of MOSAIC OF THOUGHT, a book on reading comprehension. She speaks throughout the United States on the healing power of writing and ways to deepen reading and writing experiences for adults and children. A graduate of Yale Law School, Susan began her career practicing corporate law and later co-founded and served as the executive director of the Public Education and Business Coalition. Susan lives in the foothills west of Denver with her husband and four children.
Praise for Grief Dancers:
"[Susan's] courage, her joy and her hope reach through her tragedy, and offer us all a way of life that is creative, no matter what the circumstances."
–Madeline L'Engle, Newberry Award winning author
"Although the circumstances of our lives may not be the same as Susan's, her words compel us to walk alongside her as her story unfolds and becomes our own; and we, too, are inspired and strengthened to face the truths of our own lives."
–Georgia Heard, author of Writing Toward Home
Random House/Crown Books (retained all translation rights)
---
SIX-FIGURE SALARY NEGOTIATION:
Industry Insiders Get You the Money You Deserve
"Six-Figure Salary Negotiation" is the insider's guide to salary and benefit negotiation with wisdom and advice from six CEOs who are global experts in employment issues.The book takes a pragmatic and strategic approach to salary negotiations from determining one's value to interviewing and negotiating. Throughout the book, the author and experts interviewed share highly effective negotiation strategies and techniques. Each chapter features: interviews with CEOs who are recognized experts in areas related to specific employment issues, as well as CEOs of other leading firms; stories and anecdotes related to employment, compensation, and salary negotiations; and, exercises, tips, and checklists on each topic to help readers devise their own personalized strategies.
Adams Media (retained translation rights)
---