Marty & Denali Schmidt
As seen on http://tvnz.co.nz/sunday-news/august-18-5533457#video:
Marty Schmidt (beloved brother of Doris) worked and played in the mountains of the world…but they conspired against him. In the dead of night as he slept perched high on a ledge on K2 an avalanche struck sweeping Marty and his son Denali to their death. As she deals with her grief Marty's daughter and Denali's sister says she could not have written a more poetic ending for her passionate mountaineer father.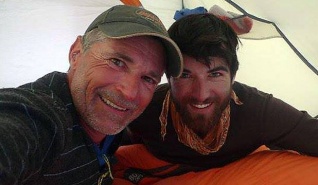 Marty Schmidt's Facebook page