Fiction
Lana McGraw Boldt
Rhubarb Summer
JoAllen Bradham
Some Personal Papers
Eric D. Goodman
Tracks
Patricia Henley
In the River Sweet
Todd Hopkins and Ray Hilbert
The Janitor
Lynne Hugo and Anna Tuttle Villegas
Swimming Lessons
Jason Kelly
Y2K: It's Already Too Late
Sarah McCoy
The Time It Snowed in Puerto Rico
The Baker's Daughter
Sophie Powell
The Mushroom Man
Anna Tuttle Villegas
All We Know of Heaven
Chris Widener
The Angel Inside
The Art of Influence
Irene Zabytko
When Luba Leaves Homes
---
RHUBARB SUMMER
A compelling coming of age story destined to become a classic as both a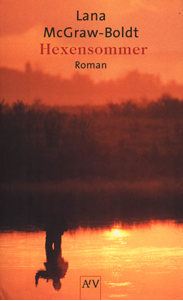 novel and a film. Revolving around Jo Anderson's wise and humorous remembrance of her twelfth birthday during an idyllic summer, the story explores Jo's relationship with her friend, Polly, and with those from her hometown of Pine Point: Miss Congreve, a reputed witch; Albert, her pale and gaunt nephew; Aunt Neffie; Mr. Nestor, a fanatic leader of a fire-breathing church; his teenage daughter Anne-Marie; and Elrod Sutter, a high school dropout and part of a backwoods clan known to be both violent and entirely too familiar with their cousins.
Rhubarb Summer has a unique, double climax sure to be remembered long after the last page is read. Lana McGraw Boldt is the author of two Bantam Books novels: Flower of the Pacific (1984) and Fionna's Will (1987), with an international sale in Norway.
Ruetten & Loening/ Aufbau Verlag (German)

---
JoAllen Bradham
SOME PERSONAL PAPERS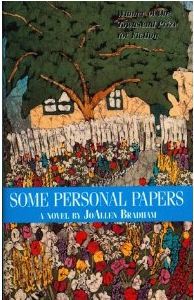 JoAllen Bradham's thought provoking Some Personal Papers won the 1994 Novelists Breakthrough Award in Southern and Southwestern Fiction, and was originally published by the Texas Review Press.
"The reader is challenged, faced with deciding if Miss Genie, respected director of children's services in a large Georgia city, is a clear-minded benefactor or a madwoman and victim of her own circumstances, or some of each…Although Bradham's prose is much tighter than Faulkner's, the complexity of her protagonist's character approaches the multifaceted personalities in Faulkner's best work. Eugenia Putman is a figure who would be at home in Light in August, for example."
— Vanderbilt Magazine
Black Belt Press

---
Journey by train from Baltimore to Chicago via the perspectives of a diverse array of passengers. They are the strangers we meet every day: a soldier slowly losing his faith in the war, a businessman learning to balance his job and the family he loves, a computer geek-turned-criminal, a Holocaust survivor finding hope in facing her fears, couples in love, a woman dealing with the death of her parents, a poet hunting for inspiration, and a hit man with a job to finish before the train arrives at its destination. Watch as these and other characters' lives and stories seamlessly link and intersect, quietly shaping and changing one another.
"Eric D. Goodman is a virtuoso; he breathes life into each character in such a way that you want to know everything about them, and each story makes you want to read the next to see how these lives intersect. Even when Tracks ends, it continues in the mind, leaving you wanting to know more, thinking about not only the lives of these multi-faceted characters, but your own life and the lives of those around you. Life is a journey and Tracks captures that feeling in a way that few interconnected story collections do." – Nancy Greene, author of Portraits in the Dark
Atticus Books (World English)
---
IN THE RIVER SWEET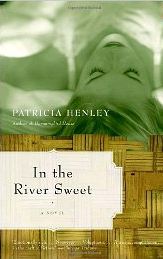 IN THE RIVER SWEET is Patricia's second novel, following HUMMINGBIRD HOUSE, which was a finalist for the 1999 National Book Award and The New YorkerAward for Best Fiction 1999.  IN THE RIVER SWEET tells the story of the Bond family, contemporary mid-western Catholics – Eddie, Ruth Anne, and their grown daughter, Laurel — who reach an emotional critical mass when secrets long suppressed can no longer be concealed.
In 1967, at the age of nineteen, Ruth Anne left Michigan for Vietnam in order to be near Eddie Bond while he was in the Army.  While there, Ruth Anne experiences an improbable and unsustainable love affair with a Vietnamese man and bears his child, relinquishing her son to her lover and his mother.  Ruth Anne has kept her son a secret and 33 years later, he contacts her for the first time and wants to meet her.  Irrevocable changes are destined to occur.
Patricia Henley is the author of three short-story collections, Friday Night at the Silver Star(Graywolf Press (1986), The Secret of Cartwheels (Graywolf Press 1992), andWorship of the Common Heart (MacMurray & Beck 2000) and Hummingbird House(MacMurray & Beck, 1999), a novel.  She teaches the MFA Creative Writing Program at Purdue University.
Praise for The Secret of Cartwheels:
"A wonderful book by a significant writer whose prose dances and paints and sings, and shines a beautiful light on the human heart.  Her delight in the physical world of the earth and the flesh is a spiritual celebration of being alive."
–Andre Dubus
Praise for Worship of the Common Heart:
"These stories, by a marvelous writer who speaks from both the heart and the head, are as comfortable as well-worn denim."                          –Publishers Weekly, starred review
"It is in these stories that Henley is in her glory:…she can tear open the chests of her characters and hang their insides out to dry in the wind.  In the simplest places, populated by people with simple lifestyles, Henley can expose the tumult and complexity within.  When Henley completes a story, a scene, even a paragraph, she leaves her reader slightly stung, but grateful at the gift of an unvarnished truth."
–Salon.com
Praise for Hummingbird House:
"Deeply felt…A heartbreaking book."
–John Sayles
"Hummingbird House is obsidian, a dark blade, a stone, a mirror.  It begins with a birth and ends with a death, driving home the hard truth of human vulnerability and cruelty…Henley guides her readers through this tale one graceful and slicing sentence at a time."
–Hungry Mind Review
 Knopf (retained all translation rights)
---
Todd Hopkins and Ray Hilbert
Too often we find ourselves losing sight of the important things in life, as work and stress take over. This is the situation in which CEO Roger Kimbrough finds himself in THE JANITOR, a Christian business parable with mass appeal. Title character Bob Tidwell helps Roger to reevaluate how he is leading his business and his life, and ultimately how to become more fulfilled. Bob passes on six directives from his late wife:
Recharge vs. Discharge
View Family as a Blessing, Not a Responsibility
Pray, Don't Pout
Pass it Around
Don't Spend, Invest!
Leave a Legacy
Each of these directives is applied to Roger's (and the reader's) business and family life, creating a firm path toward figuring out his purpose. Roger and Bob, the CEO and the janitor, form a beautiful bond that crosses barriers and touches those around them. The message Bob has for Roger spreads to neighbors, colleagues and to the reader as well.
Thomas Nelson (World English, Latin American Spanish, Latin American Portuguese)
Wisdomhouse (Korean)
Kodansha (Japanese)
Editions du Tresor Cache (French/Canada)
China Renmn University Press (Simplified Chinese/China)
Eurasian Publishing Group (Complex Chinese/Taiwan)
Uitgeverij Het Spectrum (Dutch)
SMARTBOOK (Portuguese)
---
Lynne Hugo and Anna Tuttle Villegas
SWIMMING LESSONS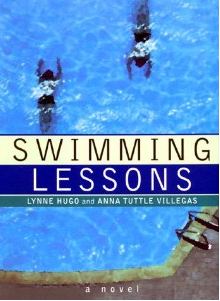 Lynne Hugo and Anna Tuttle Villegas have created a unique and deeply touching novel about an unlikely friendship between two women.
When Marna, an Olympic hopeful who abandons her swimming career for love, first sees savvy, professional Laurel, friendship is the furthest thing from her mind. But Laurel reveals that she's not quite as perfect as her intimidating appearance indicates – she's absolutely terrified of the water. She asks Marna for swimming lessons, and slowly these two women become friends. As they learn to trust their friendship, the secrets of their lives spill out, and a shocking discovery threatens to undo their personal lives. And their connection, one that so many women will recognize and celebrate, is sorely tested.
"Swimming Lessons is moving and absolutely beautiful. Lynne Hugo and Anna Tuttle Villegas write with a freshness and generosity of heart that surprises and pulls you in close to the characters. They are a literary match made in heaven. This story of fragility, courage, and redemption is a triumph."
— Linda Raymond, author of Rocking the Babies
"At a glance, this novel is merely separate stories about two unacquainted and seemingly dissimilar women, told in alternating chapters, and initially, it is. But then, slowly and effortlessly (and even a bit unexpectedly), the paths of the characters begin to cross. The novel takes on a whole new dimension to become a superb tale about the empowerment these women find through their burgeoning friendship…Engrossing and thoroughly enjoyable, Swimming Lessons will leave women either wishing they were blessed with such a beautiful friendship or thanking their lucky stars they are."
— Booklist
"…the main story – of two people learning to exist in, then enjoy, what each had thought of as an alien element – is bittersweet and rewarding."
— Publisher's Weekly
Literary Guild and Doubleday Book Club Featured Alternate
First Serial rights sold to Good Housekeeping
Film rights sold to Hearst Entertainment. Aired as a Lifetime Original movie titled "Another Woman's Husband."
William Morrow
Econ (German)
Editorial Atlantida (Spanish/Latin America)
Pisgat Idit (Hebrew)
Flammarion (French/Canada)
Shueisha (Japanese)
DeProm (Dutch)
J'ai Lu (French)
Euromedia (Czech)
Excelsior (Italian)
---
Y2K: It's Already Too Late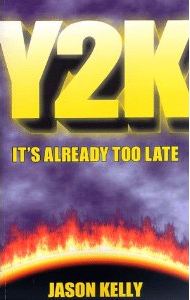 The Year 2000 computer problem, known in the industry as Y2K, is real. Operating on its own diesel electricity and private satellite network, Solvang Solutions is the only company still operable after New Year's Eve 1999. Mark Solvang frantically directs his Year 2000 repair firm to restore the world. He discovers powerful forces exploiting the meltdown and finds himself in a race to save his life.
Y2K — It's Already Too Late is based on evidence from congressional testimony, military documents, and reports from computing experts. It's a chilling look at what's just around the corner.
"With dizzying action…it carries you through a worldwide power outage, runs on banks, bloody raids on suburban grocery stores, plane crashes, massacres on the streets of Los Angeles. The second half of the book even takes a turn into international espionage.
— Denver Post
Truth may be stranger than fiction, but that didn't stop Los Angeleno Jason Kelly from turning a real-life technology nightmare into a novel. Kelly's Y2K — It's Already Too Late — apparently the first novel inspired by the year 2000 computer glitch — envisions massive failures of banks, phones and power plants that ultimately make the U.S. vulnerable to an attack by the Chinese military.
— Los Angeles Times
"If you're interested in learning more about the Y2K bug and the geek-speak used in more technical non-fiction books doesn't appeal to you, Y2K — It's Already Too Latemay be a good choice. It features a lot of factual information and is a good example of fiction being cleverly wrapped into a scenario that's frighteningly plausible."
— USA Today Online
60,000 copies sold in the US
Shueisha (Japanese publisher) sold 30,000 copies in the first month of publication and has gone back for a 10,000 copy reprint; author invited to the Tokyo Book Fair '99 for major media events. Total sold in Japan as of September: 150,000.
Featured as First Fiction in Publisher's Weekly
Consistently made top 50 of Amazon.com
Dramatic rights optioned to Triad Ray
Audio rights sold to Sunset Productions
Book site at www.y2kbook.com
Author site at www.jasonkelly.com
JK Press
Shueisha (Japanese)
Antet (Romanian)
SanSung Media (Korean)
BB/art (Czech)
Mondadori (Italian)
---
THE TIME IT SNOWED IN PUERTO RICO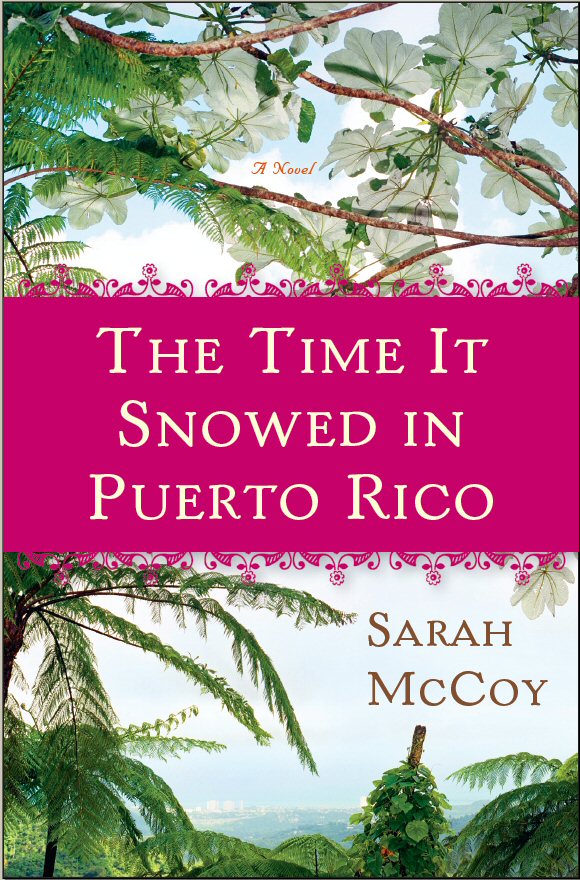 Verdita Ortiz-Santiago has spent 11 long years in her sleepy Puerto Rican mountain town, and she is desperate for change. After all, everything else is changing around her. Mamá has announced that she is pregnant, Papi is spending more time at the jíbaros bar discussing politics and watching the cockfights, and the whole island seems trapped in the struggle to stay linked to the United States or to fight for independence.
For Verdita, the choice is easy. In the States, her life would be perfect, just like Dick and Jane's in her textbooks. She would be free to sing Elvis songs, eat hamburguesas at every meal, and maybe sort out her feelings for her American friend Blake, whose accidental touch made her feel she would burst into flame.
Like the classics Annie John and The House on Mango Street, The Time It Snowed in Puerto Rico delves into the conflicting feelings we have for the people we love and the difficulties of leaving one's homeland for places unknown. Sarah McCoy handles Verdita's struggles with striking insight and lyrical prose.
Sarah McCoy graduated from Virginia Tech with a BA in journalism and public relations and Old Dominion University with an MFA in creative writing fiction. She has taught writing at Old Dominion University and the University of Texas at El Paso, and currently contributes monthly columns to Your Health Monthly Magazine.
Random House – Crown (North American English)
All remaining rights have been returned to the author.   
---
If you look out Reba Adams's back door, you can see all the way to Mexico. Ciudad de Juarez is just over the Rio Grande river, and Reba's boyfriend, Riki, an agent with the U.S. Border Patrol, makes sure that everyone stays on their respective sides. Reba is a journalist for the El Paso monthly, and while Riki finds comfort in strict rules and regulations, Reba knows that in every good story, some lines will be blurred.
Reba's latest assignment is a feel-good Christmas piece about an elderly baker across town. The interview should take a few hours at most, but Elsie, owner of Elsie's German Bakery, is no easy subject. She keeps turning the tables on Reba–if Reba and Riki are engaged, why doesn't she wear his ring?–and Reba finds herself returning to the bakery again and again. For Elsie, Reba's questions have brought back memories of a darker time: her life in Germany during the last desperate year of WWII. And as Elsie, Reba, and Riki's lives become more intertwined, all three are forced to confront the uncomfortable truths of their pasts and seek out the courage to forgive.
Random House – Crown (North American English & North American Spanish)
Glydendal Norsk Forlag (Norwegian)
Mauri Spagnol/Nord (Italian)
Pegasus (Turkish)
All remaining rights have been returned to the author.  
---
THE MUSHROOM MAN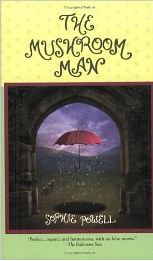 Laced with whimsy and fairy tale, THE MUSHROOM MAN is the story of two sisters, Charlotte and Beth.  Charlotte, snobbish, discontent and fastidious, lives in London with her husband, Richard, and their daughter, Lily.   Unbeknownst to her, Richard is dabbling in extracurriculars with the Estonian au pair Charlotte so painstakingly selected.  And Beth, a widow of two years, lives on a small farm in Wales with her three triplet daughters and teenage son.  After years of pleading, Beth finally convinces Charlotte to bring Lily for a visit.  But when Lily mysteriously disappears into the forest that borders the farm, relationships are strained and facades so carefully constructed come crumbling down.
Sophie Powell is from London, and is currently getting her MFA in creative writing at NYU.  She had a story published in The May Anthologies 2001, edited by Zadie Smith.
Penguin Group (World English)
In Books Publishing House (Korean)
DHC Corporation (Japan)
Lorenzo Barbera Editore (Italian)
---
Anna Tuttle Villegas
Anna Tuttle Villegas has, with this, her first novel, achieved a small miracle: She has written a story that will be remembered as one of the most moving and memorable love stories ever.
Though Austin Barclay is tall, handsome, smart, and kind, and Delores Meredith is pretty, vivacious, and brave, these two lovers feel to us totally believable and human.
"Emily Dickinson stanzas, which begin each chapter and foreshadow the plot, are appropriately selected (often tearfully so) in this promising first novel."
— Booklist
"If Emily Dickinson were alive and living in California, she might write a book like this one – a bittersweet tale full of pleasure and pain, where nothing is quite as simple as it should be, yet good will prevails."
— Mary Morris
author, House Arrest and Nothing to Declare
"Anna Tuttle Villegas has written a tender, lyrical story all about the texture of ordinary life and the mysterious way that love and loss make the ordinary suddenly extraordinary. Villegas tells a heartbreaking story in a way that leaves the reader with a sense of hopefulness and even triumph."
— Joyce Maynard
author, To Die For and Where Does
Love Go?
First serial rights sold to Good Housekeeping
Audio rights sold to Brilliance
Movie option sold to Starzaan Productions, Ltd.
St. Martin's Press (North American English)
Goldmann/ Bertelsmann (German)
Hyundae Munwha (Korean)
Ediciones del Bronce/Columna (Spanish/Spain)
Atlantida (Spanish/Latin America)
Editions Ramsay (French)
Nea Synora (Greek)
Sperling & Kupfer (Italian)
Pisgat Idit (Hebrew)
Shueisha (Japanese)
DeProm (Dutch)
---
Published Book Available Spring 2007
Set in the other-worldly city of Florence , Italy , the reader finds a lost and frustrated young man struggling to find himself, his purpose, and inner peace. So far, his journey in Europe has gotten him nowhere. This young man, Tom, meets a teacher whose classroom includes Michaelangelo's David and an Italian artisan's workshop. On his last day in Europe , Tom finally begins to find what he was looking for. With the direction of his elderly teacher, Tom and the reader learn the following lessons that contain the power to change lives:
Finding the Angel Inside of You
The Power of Following Your Own Passion
Being Confident in Your Strength
Beauty Through Details
Your Hand Creates What Your Mind Conceives
The Importance of Planning and Preparation
All Accomplishment Starts with One Swift Action
Embracing the Stages of Chipping, Sculpting, Sanding and Polishing
Being Content: Sometimes Success Takes Years
No One Starts with the Sistine Chapel
This self-published novel from Chris Widener moves readers to the next step in fulfilling their lives, and finding the lives they are supposed to lead.
Random House (World English)
Sextante (Portuguese)
Dauphin Blanc (French/Canada)
Beijing Normal University Press (Simplified Chinese/China)
DTV (German)
Kritiki (Greek)
Onread Book Publisher (Indonesian)
Kodansha (Japanese)
Magellan (Korean)
Ankh-Hermes (Dutch)
Alpina Books (Russia)
Ediciones B (Castilian/Spain & Latin America)
CommonWealth Magazine (Complex Chinese/ Taiwan)
Sumnukpim Eureka (Thai)
OPTIMIST (Turkish)

---
From Chris Widener, the author of the breakout bestseller The Angel Inside, comes an inspiring new parable on the power of influence.

The Art of Influence will make you think twice about everything you've ever learned about influence. As Chris Widener's inspiring story reveals, it's not something you "do" to other people but rather something that starts with how you shape and transform your own life. Forget about manipulation and slick fast-talking; The Art of Influence teaches that your ability to influence others begins from within.
Random House (World English)
Editions du Tresor Cache (French/Canada)
ThinKingdom Media (Simplified Chinese/Chinese)
Leader's Book Publisher (Korean)
Ankh-Hermes (Dutch)
Editorial Bizancio (Portuguese)
Editorial Empresarial (Spanish/ Spain & Latin America)
Sumnukpim Eureka (Thai)
---
Irene Zabytko
WHEN LUBA LEAVES HOME:
A Portrait in Stories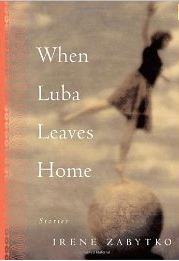 As a follow up to her stunning debut novel, The Sky Unwashed, Irene Zabytko has written a story collection that explores the core of emotion that links Ukrainian immigrants in 1960s Chicago.  Narrated by Luba, the college age daughter of two Ukrainian scientists, the people who live on Wheat Street struggle with the values and pressures of a new world, but cannot break the common tie that binds them.
Irene Zabytko is a first generation Ukranian-American who was born and raised in Chicago.  She received her MFA from Vermont College and her debut novel, The Sky Unwashed, was published by Algonquin Books in 2000.  The Sky Unwashed was selected for the Barnes & Noble Discover Great New Writers program, and was chosen by the New England Booksellers Association as one of the best books of 2000.
Praise for The Sky Unwashed:
"Though Zabytko makes the horror of Chernobyl clear enough — faces wither, teeth and hair fall out… — the greater and more grinding catastrophe seems to be the crumbling Soviet state…"
–The New York Times Book Review
"One of the joys of reading is coming across a novel in which the author's voice is so perfectly wedded to an important subject that the blending becomes art…Zabytko's voice becomes the voice of the forgotten in a moving and memorable book."
–W.D. Wetherell, author ofChekhov's Sister
"…a wrenching novel…The Sky Unwashedtells its harrowing story with quiet compassion and moving empathy."
–Kirkus Reviews
Algonquin Books (retained all translation rights)
---