Tag Archives:
POWER ENTERTAINING
As seen on the November newsletter from Osterland Enterprises: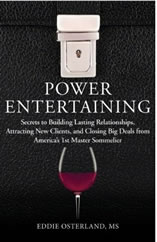 Power Entertaining:Secrets to Building Lasting Relationships, Hosting Unforgettable Events, and Closing Big Deals from America's 1st Master Sommelier is now available in bookstores and online at Osterland Enterprises.
Eddie Osterland shares all he's learned about entertaining with wine and food as the result of a remarkable 30-year career in the food and hospitality industries. His book outlines dozens of power entertaining tips to help mold anyone who utilizes business entertaining to close deals.
Osterland says "power entertaining" isn't about "boozing and schmoozing clients." Instead, it's about "being able to entertain others in ways they will never forget, and that will make them want to do business with you again and again!".