Tag Archives:
Pushback
Selena Rezvani's PUSHBACK is featured as a top business book in Shangai and has been awarded a silver medal by Axiom Business Books for Women/Minorities in Business. Congratulations, Selena!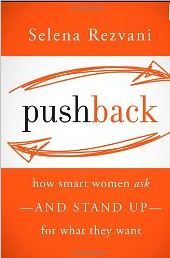 As seen on on shangaidaily.com:
3.Pushback
Women can and should ask for more money, better assignments, flexible schedules and anything else they deserve.
Selena Rezvani | Copyright 2012 Jossey-Bass, an imprint of John Wiley & Sons 2012 | 209 pg. | ISBN: 9781118104903
As seen on independentpublisher.com:
15. Women/Minorities in Business
Gold: The Secret Thoughts of Successful Women: Why Capable People Suffer from the Imposter Syndrome and How to Thrive in Spite of It, by Valerie Young, Ed.D (Crown Business)
Silver: Pushback: How Smart Women Ask – and Stand Up – For What They Want, by Selena Rezvani (Jossey-Bass)
Bronze (tie): Big Bold Business Advice from New Jersey Women Business Owners, Edited by Joyce Restaino (Woodpecker Press) and Vital Voices: The Power of Women Leading Change Around the World, by Alyse Nelson (Jossey-Bass)