How to Land Your Dream Job
As seen on dyn.com:
How My Favorite Author Taught Me To Ask Him To Come To Puerto Rico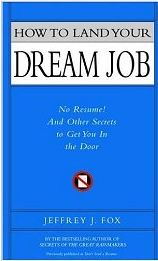 By Kyle York
Chief Revenue Officer (CRO)
Jan 23, 2013
I recently was a guest on John Lee Dumas' EntrepreneurOnFire.com podcast and while the final interview won't go live until March, it'll be worth the wait. The story I have for you started over 10 years ago, but was prompted by the interview that opened up a wild rehashing of memorable career-shaping events from the early 2000′s.
One of John's common questions for the interviewee is to tell the audience what their favorite business book is. I gave two answers: "Think and Grow Rich" by Napoleon Hill (I recently did a re-read of this old school book) and "How to Land Your Dream Job", a book by Jeffrey Fox I read as a college intern.
I constantly reference the Fox book when talking to people looking to make a career change as I have always felt like it was written directly for my grand ambition: stand out, be unique, go big or go home.
At the time I read it, I had no idea that one day we'd be hanging out in Puerto Rico as a result. Here's how the chain of events kicked off.
My internship professor at Bentley University recommended the book when I was looking to land a technology internship but coming up empty. I read it, landed my first gig (an eventual 6+ year career progression at SaaS company WhippleHill) and eventually was brought into Dyn to run sales and marketing at a time when both needed a real identity. (Here's some background on how that's gone through the years.)
The night after the aforementioned podcast interview, I decided to look up Fox to see if he had written anything else. To my great (and what should have been obvious) surprise, he had written ELEVEN books — all classic titles and all written for people like me. I bought them all and dove in.
I came across his email address, dropped him a brief note to thank him for his influence and went to bed thinking that was that. He responded via email an hour later, thanking me right back. He let me know he'd call to chat the next day, so we could get to know each other.
He was humbled. I was honored.
We talked and shared our career journey. His was longer than mine, but they shared a common thread of hard work, commitment and big dreams. Feeling inspired, I invited him to come to Puerto Rico this weekend to be the guest speaker for our 1st Annual "Baller's Club" (our version of President's Club for our top ranking 2012 sales reps).
I asked because when I was a college student unsure of my future, his book taught me to ask. He said yes because he knew his books were his resume and they worked. He confirmed my intrinsic belief that he wrote the book for people just like me.
I look forward to sharing this story with our top sales people and listening closely to Jeffrey discuss his career and other books like "How to Become a Rainmaker" and "How to Be a Fierce Competitor" and inspire us all to continue to raise the bar on our ambition.