Tag Archives:
How to Land Your Dream Job
As seen on dyn.com:
How My Favorite Author Taught Me To Ask Him To Come To Puerto Rico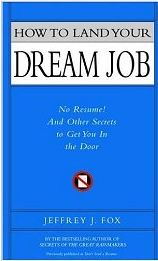 By Kyle York
Chief Revenue Officer (CRO)
Jan 23, 2013
I recently was a guest on John Lee Dumas' EntrepreneurOnFire.com podcast and while the final interview won't go live until March, it'll be worth the wait. The story I have for you started over 10 years ago, but was prompted by the interview that opened up a wild rehashing of memorable career-shaping events from the early 2000′s.
One of John's common questions for the interviewee is to tell the audience what their favorite business book is. I gave two answers: "Think and Grow Rich" by Napoleon Hill (I recently did a re-read of this old school book) and "How to Land Your Dream Job", a book by Jeffrey Fox I read as a college intern.