Tag Archives:
Stock Market Investing
As seen on seekingalpha.com: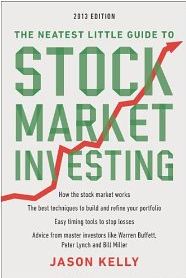 Jason Kelly has issued a new 2013 edition to his perpetually best-selling The Neatest Little Guide to Stock Market Investing. It is a book that I heartily recommend for both beginning and experienced stock market investors. (It sports a 4.9 reader review on a 5-point scale at Amazon).
It is no accident that The Neatest Little Guide has been selling so well since the first edition in 1998. It is not only an accessible guide for newcomers, but it is also sophisticated in its investing strategies. The basic concepts remain timeless. Everything in the book is based on facts supported by sound reasoning. It is an intelligent approach. Terms are explained and used consistently. The writing style is conversational and accessible, with a nice dose of humor. But the book never becomes so informal that important concepts get shortchanged or mangled. As Kelly has taken the book through several editions, he has honed his ideas until they are razor-sharp and very clearly presented.
The Neatest Little Guide has 8 chapters, 3 appendices, and an index. The chapter titles themselves give a good presentation of what you will find here: